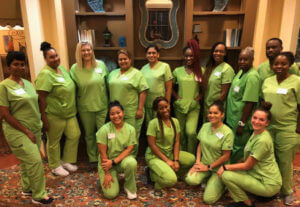 If like some people, you are wondering just how long it can take to become a CNA, then the answer can be both short and long.
The shortest form of the answer is, you can become a CNA anywhere from 6 weeks up to 6 months and beyond. The true answer to this, though, will always depend on the person taking the path to become a CNA.
To become a CNA, you must initially complete a state-approved training course. After completion of this course, you would then also be required to pass an exam too.
If you follow a typical route, CNA training courses last from 4-12 weeks, and they will cover pretty much everything you need to know to be a good CNA. You can, of course, take a more in-depth course which lasts up to 6 months and provides you with a more comprehensive education.
It is important to remember that whether you take a four-week program or a six month one, you will only receive the same amount of credits.
It is also essential that you use a state-accredited exam center and training program as this will be the only way to secure employment after your training.
How Much Does A CNA Make Per Hour?
Certified nursing assistants or CNAs are generally employed in long-term care facilities and take care of the elderly and disabled. The duties of CNAs can vary from role to role, but most include tasks like bathing, grooming, feeding, monitoring vitals, also lifting and moving patients too.
The hourly rate for a CNA will generally vary dependant on the location of work and also the industry where the CNA is employed.
As a national average, a CNA will earn around $12.22 per hour, but this can rise to approximately $19 per hour, depending on the industry. The highest paying sector for CNAs is generally in the science and research service.
The other industries you can find higher rates of pay are for state government services, the federal executive branch, and also colleges and universities.
The location will also play a massive part in the amount you can earn as a CNA. States like New York and Connecticut manage to sit above the national average for CNA wages, so it's always a great idea to do a little research and see which is the best paying industry in your state for CNAs.
What's The Fastest Way To Become A CNA?
The fastest way to become a CNA is to start preparing as early as you can. If you know from an early age that this is the route you want to take, it's a great idea to prepare during your years of education.
Preparing through high school by taking healthcare classes whenever possible will help get you familiar with some of the confusing terms that you can find yourself faced with when becoming a CNA.
If it has taken until later life for you to decide to become a CNA, then the quickest possible way is to find a training program. Many places offer CNA training certification programs, and many of them can get you to where you need to be in a matter of weeks.
To get to the stage where you are ready in 4-6 weeks, you do need to apply yourself fully and be prepared to absorb all the information given to you. While you may feel the need to rush to obtain your goals, this can overall be a hindrance.
Taking a decent amount of time will eventually lead you to success; after all, you must retain as much knowledge as possible if you want to pass your exam.
That's right! At the end of your training, you need to sit an exam which is generally administered by the state board of nursing. It is always a great idea to search for local exams that will take place around the same time as your course finishes — getting to do an exam quickly after your course leaves the information fresh in your mind.
How Much Do CNA Classes Cost?
As with the cost of everything, there are always considerations that need to be made, CNA classes are not an exception to this rule.
CNA class costs will generally depend on the provider, and it's important to remember that if something seems too good to be true, it probably is. An excellent reputable CNA course will generally cost between $800 & $1200 for the classes. If you find somewhere offering any cheaper than this, that should be a warning sign for you.
While it may seem a little pricey for a short course, it is essential to remember that in comparison to getting a nursing degree, this can be a far cheaper entrance into a career that is growing larger by the year.
You should also take into account that costs may fluctuate slightly dependant on your location and the size of the provider. It is often a good idea to find a smaller provider, not only do you save a little money, but you will also get a more personal education.
Is a CNA a Good Job?
The answer to this question is a resounding yes. CNA is far more than just a job; for most people, it's a calling.
CNAs are generally very passionate and caring people, and this job is ideal for them. The role of a CNA can see you go on a journey with many people through a role that is forever growing.
Being a CNA appeals to so many people because of the difference they can make to people's lives. Whether a CNA works in science and research or with the elderly, as a CNA, you are essentially one of the most influential people in your patient's life.
For most people, becoming a CNA is just the start of something, and after some time, they find the desire to stretch their career as far as they can, some even go on to become nurses.
CNAs always have job opportunities, and there are always more coming, so when it comes to being a CNA, it's more than a good job, it's a great one.
For more information about becoming a CNA, visit our Houston office at:
CNA TRAINING INSTITUTE,INC140 Eldridge Road # G, Sugar Land, TX 77478Phone: (346) 908-0942https://cnatraininginstitute.org/