January, 2023. Prices may vary by location and are updated frequently.
Below are the latest Golden Corral prices. (IN-RESTAURANT MENU)
ItemPrice
Adults
Breakfast
Saturday & Sunday (Open – 11am)$12.99*
Lunch – Beverage Not Included
Monday – Friday (10:45 – 4pm) $11.49* Saturday (After 11am)$11.49*
Adult Dinner
Beverage Not Included
Monday – Saturday (After 4pm)$16.99* Sunday (After 11am)$16.99*
Children
Breakfast & Lunch – Includes Beverage
3 & Under – Limit 2 Free Meals per Adult Purchase$0.00 Ages 4-8$8.99* Ages 9-12$9.99*
Dinner – Includes Beverage
3 & Under – Limit 2 Free Meals per Adult Purchase$0.00 Ages 4-8$10.49 Ages 9-12$11.49
To Go
By The Pound (Weight & Pay)
Breakfast$8.99/lb Lunch (Monday – Friday)$6.99/lb Dinner (Monday – Friday & all day)$8.99/lb Dinner (Saturday & Sunday)$8.99/lb
Seniors (60 & Over)
Breakfast
Saturday & Sunday (Open – 11am)$12.49*
Lunch – Beverage Not Included
Monday – Friday (10:45 – 4pm)$10.99* Saturday (After 11am) $10.99*
Senior Dinner
Beverage Not Included
Monday – Saturday (After 4pm)$15.99* Sunday (After 11am)$15.99*
Senior Earlybird Special
Includes Beverage
Monday – Friday (11am – 3pm)$9.99* Disclaimer: Prices shown above have been sourced from Golden Corral located at 3270 Satellite Blvd, Duluth, GA 30096. They may not cover recent price changes. Contact the restaurant closest to your location to get the latest prices and updates.
Below are the latest Golden Corral prices. (ONLINE MENU)
About Golden Corral
Did you grow up in the South? Then chances are good that you've made a visit or two to Golden Corral. They claim to be America's #1 Buffet, but it's a bit hard to contest such a claim when you visit a Golden Corral location.
Many families enjoy coming here, especially after church. It becomes a habit, since you get to see many of your fellow town mates and the prices are eminently reasonable. It offers good food in great quantities, along with a nice friendly atmosphere in which you can lay back and relax.
They've Been Here for a While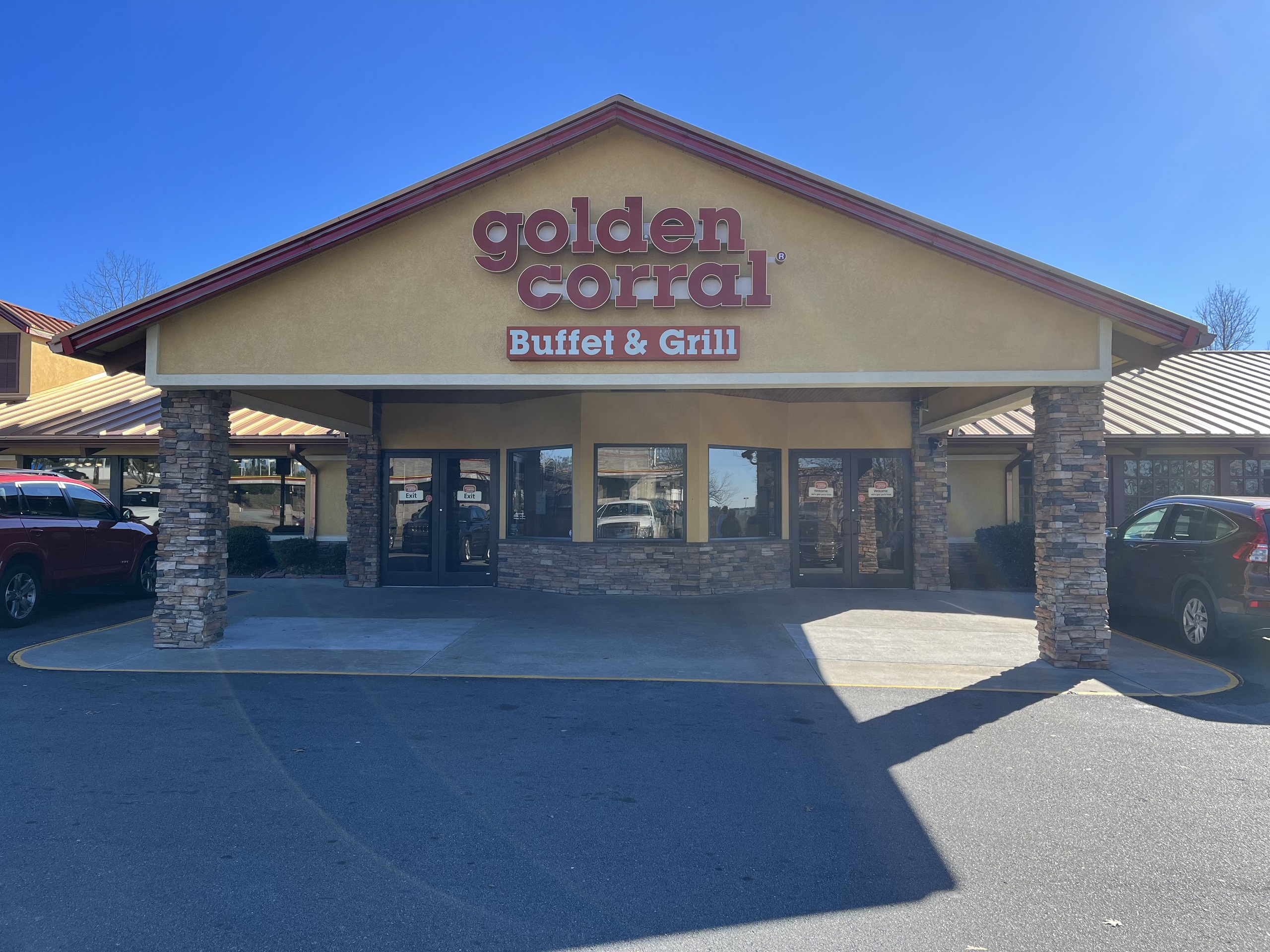 If you live in the South, then it feels like Golden Corral has always been there. There may be grandparents who've been enjoying their meals since they themselves were teenagers. That's because the first one opened way back in 1973.
It's 2021 now, so that's 48 years ago. They're also going to be here a long while, as business is booming. In fact, in the Entrepreneur.com list of the Top 200 Food and Restaurant Franchises of 2018, Golden Corral ranks #1 among the Full Service Restaurants. Denny's, in comparison, ranks second in this category.
More and More Locations
The first Golden Corral was in Fayetteville, North Carolina. It started out as a steakhouse that could accommodate up to 175 people. Then it grew, as they set up budget steakhouses all over the South, in small cities from Texas to Virginia.
In the middle of the 1980s, Golden Corral heeded the requests of their patrons so they transformed the brand. They added the Buffet & Grill unit, which offers hot and cold items that numbered in the hundreds.
Then they also put in the Brass Bell Bakery. Here, you can get your rolls, cookies, and muffins, along with pies and pizza. They're all made entirely from scratch.
In 2001, they made a new addition by expanding to include cooked to order sirloin steaks. Just recently in 2017, they added their new Smokehouse menu. Now you can enjoy slow-cooked smoked pork barbecue and chicken for lunch and dinner at any day of the week. For daily dinners, you can also get smoked carved baby back ribs. On weekends, there's carved brisket and also turkey.
Today, they're not just across the American South. They're in New York State (there's one in the Bronx), California, Washington State, Michigan, Nevada, and even Alaska. They're in 42 states for the moment. There's also a Golden Corral in Vancouver, so technically it's now an international franchise.
How much is Golden Corral?
"Expensive" isn't a word you tend to associate with Golden Corral. After all, the highest price you'd pay is when you're enjoying a weekend dinner, and that will only cost you approximately $16.99 per person for the food. The beverages aren't included.
Golden Corral Lunch Prices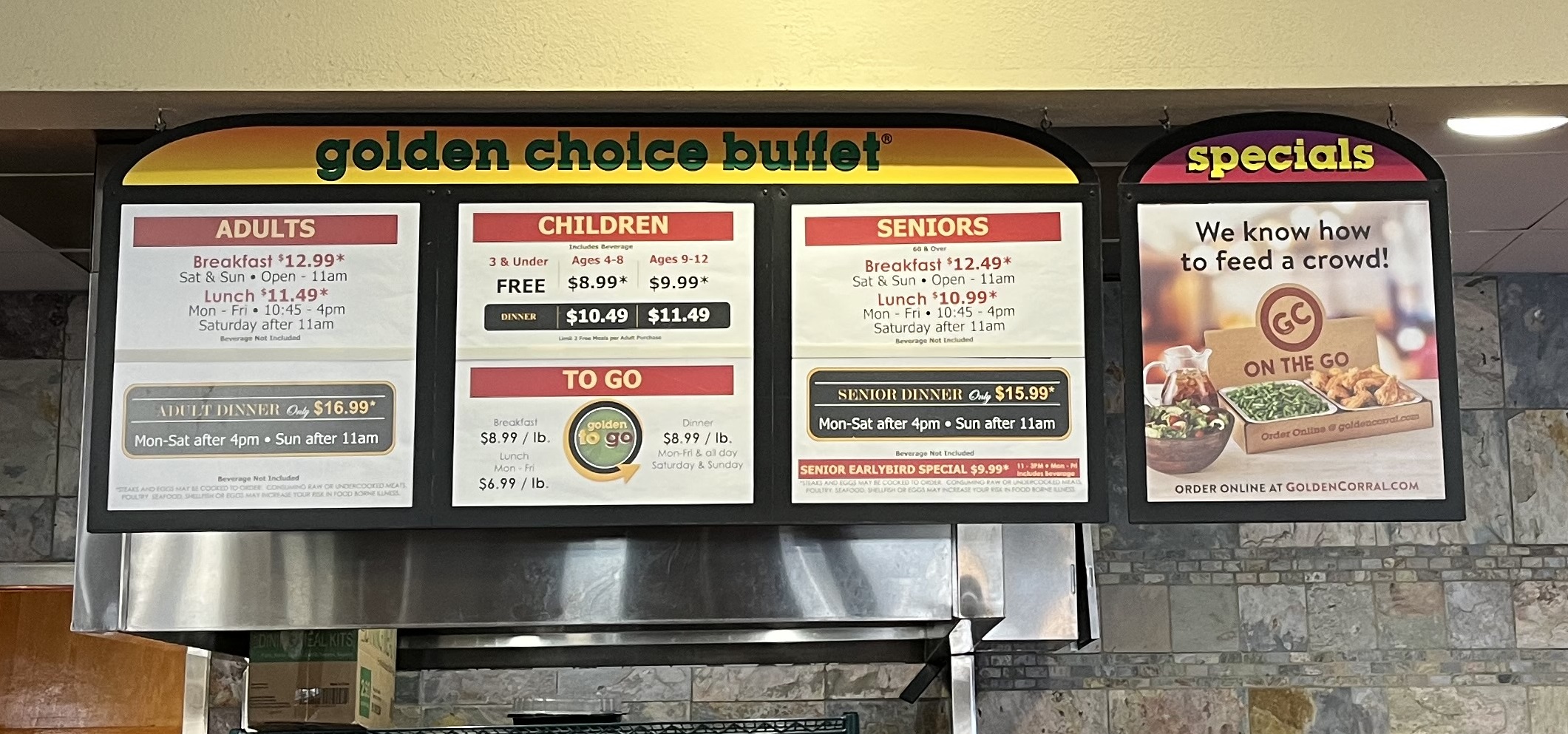 From Monday thru Friday you can enjoy lunch for about $11.49 per person and $16.99 for dinner. One of the reasons why Golden Corral is so popular is because of these low prices. It's not all that easy to find similar prices in restaurants that let you eat as much as you can.
Sometimes you have to wonder how these franchises make money based on how little they charge and how much food they offer, but then that's not really your problem.
Treats for Kids
A lot of restaurants these days are beginning to feel somewhat ambivalent about the presence of children. But that's not true with Golden Corral, since they're very welcoming when it comes to kids. After all, a large portion of their menus are geared towards kids.
"Kids" here don't refer to teenagers, though. After all, they're already adamant in saying "We're not kids anymore," right? But for children from ages 9 to 12 years old, the cost is only $11.49 per person on weekends. On regular weekdays, it's just $9.99 and that even covers the cost of the beverage.
Even younger kids from 4 to 8 years old get even bigger discounts. For weekends, they only have to pay $10.49. On weeknights, it's just $8.99.
But what about the really young kids from ages 3 and under? No, they don't have to stay home. You can bring them along and they can eat—and it's free.
Senior Benefits
Being older does have its advantages, especially when you're in Golden Corral. If you're more than 60 years old, the prices drop.
Enjoy your food (not including the beverage) for only $10.99 if you arrive before 4PM on Friday and Saturday for your buffet or if you come for brunch on Sunday past 11AM. For your weeknight dinner from Monday to Thursday, you only pay about $15.99 per person after 4PM.
There's also a Senior Early Bird Special from Monday to Friday, when you dine from 11AM to 3PM. This will only cost you only $9.99 per person.
What about breakfast? On Saturday and Sunday your breakfast until 11AM will only cost about $12.49 per person, though beverages aren't part of the price. From Monday to Saturday, you only need to pay $10.99 per person and enjoy brunch and lunch until 4PM.
Many seniors love to come here because it's such a relaxed place to visit. It's not just because they enjoy discounts, though that's part of the reason. But many old-timers congregate to Golden Corral during weekends, and their presence makes each visit really homey.
What's for Breakfast?
You have plenty of options to start your day right at Golden Corral. You can start with bread, because even non-fans of Golden Corral (yes, those people exist) acknowledge how fantastic the bread can be in this place. It's considered the "cornerstone of the Golden Corral empire" and that it's "slightly sweet, fluffy, and NOT TO BE UDNERESTIMATED". Those all-caps are taken directly from a critic.
Other options include:
Burrito with egg and chorizo or sausage
6 types of cereal
Various types of eggs including eggs benedict
Pancakes, including chocolate chip and blueberry varieties
Breakfast pizza (yes, there's such a thing)
4 types of quiche
Oatmeal
Grits, which can be with cheese
Hotdogs
Low Cal Options
It's annoying how you're supposed to watch your calorie intake but there's no way to know how many calories you're actually consuming for each meal. Golden Corral takes away the uncertainty by featuring a complete set of nutritional info for each dish. They show the number of calories and amounts of fat, cholesterol, sodium, carbs, dietary fiber, sugars, and protein.
So what should you order when you're trying to watch your figure? Here are some of the low-calorie options at Golden Corral:
Salisbury steak beef. There are at least 20 options in the beef category alone, and that's not surprising when you consider that Golden Corral started out as a steakhouse. Your best low-calorie bet is to get the Salisbury steak beef, which contains only 70 calories per serving. Other low-cal beef options include Asian beef (110 calories), BBQ beef (120), roast carved beef (110), and taco meat beef (110).
At the other end of the spectrum, you have smoked short ribs beef (340), Mongolian beef (290), Oriental Pepper beef (290), and prime rib beef (280).
Pork. If you're into pork, you also have some low-calorie options as well. These include a 3-ounce serving of smoked pit ham with 110 calories, which you also get from the 2 pieces of grilled ham steaks. The BBQ boneless pork ribs only contain 120 calories each, and so does each ounce of pork sausage crumbles. But you should also try the pork sausage patty, with only 80 calories each.
Seafood. Most of the seafood items here aren't all that heavy with calories. Perhaps the most notable exception is the Crispy Battered Fish Tacos, with each serving giving you a whopping 360-calorie load. But the shrimp dishes only offer 210 to 220 calories. If you're really trying to cut back, get breaded flounder fish for 120 calories, fried breaded fish for 90, or a serving of shrimp fajitas for 70 calories.
Side Dishes. If you're on a diet, you may want to avoid the sweet corn pudding and its load of 340 calories. The ravioli breaded pasta also isn't a good idea with 370.
But you can order green bean casserole with just 80 calories, or get okra and tomatoes stew with just 60 calories. Diced sautéed onion also work great with diets since it only has 70 calories. Onions and peppers are even better, with just 30.
Salads. When you're trying to lose weight, you may want to concentrate on salads for the moment. Some of the salads here at Golden Corral can be quite filling and yet they're low-cal enough that you can keep to your diet.
The fruit salad is an excellent choice, as each serving is only 35 measly calories. That's the same number of calories you get from marinated vegetable salad. The strawberry spinach salad is good with 40, and you get the same with the tomato and onion salad.
Some salads can pack the calories though. The Chicken Southern Style salad is only half a cup per serving, but it contains 280 calories. The same goes for the macaroni salad.
Desserts. Golden Corral has a really long list of items in the dessert category, and many of them have very low total fat, cholesterol, and sodium levels. But what about calories?
It's true that some of the items here have lots of calories. The Vanilla Pound Cake with Chocolate Frosting and Chocolate Chip Morsel gives you 350 calories with just 1 slice. A slice of pumpkin pie has 300. Pecan pie is even worse, with 410 calories per slice.
But it doesn't mean that you can't indulge your sweet tooth here, since some of the desserts aren't too bad. If you want cake, there's the sugar-free pistachio cake with only 100 calories. Pies, however, may not be able to fit your diet as the lowest calorie pie is the Fruit Mini Pie, and each slice still has 220 calories.
Beverages. If you're on a diet, you may want to stick to water. But if you're hankering for soda, you have various "zero sugar" and diet varieties here that offer zero calories like Diet Coke and Diet Dr. Pepper.
Redesign
Some people may have noticed that their local Golden Coral has been made over with a new look. This new redesign still strives to keep its homey atmosphere, but it also aims to look more sophisticated. Its curb appeal should improve with its stacked stone towers, enormous windows, red awnings, and wood accents.
The new design also addressed the choke points in previous interiors, and they've changed the blueprint to make sure that patrons can enjoy a more seamless experience.
The buffet area is now located at one end, while guests sit at the other end of the restaurant. This alters the original design of having the buffet area in the middle with diners all around it. The new design is meant to showcase more visually appealing items, with highlights such as the carvery, smoke house, and cake decorating areas.
Some items like fryers aren't things that diners want to see, so the new design keeps them out of sight in the kitchen. Also, the kitchen has been redesigned to make it more efficient for the staff.
In the seating section, diners now enjoy an airier atmosphere. Tables now have more spaces in between, and the larger windows keep people from feeling claustrophobic.
Finally, each location will have its own unique banquet room. These areas can feature local elements, such as the art work of neighborhood artists. These banquet rooms can serve for private functions.
Conclusion
With lots of dishes to sample, great locations, and a reasonable cost, there's no good reason not to visit Golden Corral. Visit it soon, and you'll probably make it a habit to return again and again!
For more information about Golden Corral, visit their official website.
Golden Corral Promo
Golden Corral Frequently Asked Questions