Green Right X Shift to Viper Right 382 X Stick Lookie. This is a standard NFL play call that a quarterback has to remember every play. What does this NFL play call mean?
An NFL play call is often called in the order of formation, play type, offensive line protection scheme, and cadence. Each coach may have their own system of verbiage, but NFL play calls will have these 4 details in the play.
What does an NFL play call sound like? Depending on the coach, calls can get quite complex. We're going to dive into all the different types of systems and terminology from professional coaches.
NFL Play Call
Hearing an NFL play call may put your brain in a confused state. Just ask any quarterback that has played for Jon Gruden.
(Watch on Youtube)
West Coast play calls are designed to detail what every player on the field is doing. Here is an example of a play call from Jon Gruden
Green Right X Shift to Viper Right 382 X Stick Lookie
These play calls are often called in a "West Coast System," where things can get pretty complex. These complex systems, however, were used to beat certain pass defenses from different coverage looks.
Each offense has verbiage that is specific for that team. It will differ from team to team, based on what the coach thinks the team can handle.
Looking for an easier breakdown? Our Ultimate Football Guide will help make things easier.
West Coast Offensive Play Call
As heard in the video, the west coast system is the more complex and precise out of all the ones we're going to list. It references the X Y Z receivers (if you're not sure what this means, read our blog here to understand better) to direct which route they're going to run. It gives the play-caller flexibility to adjust routes on the fly.
Our full West Coast Offense breakdown can be found here.
Here is an example of a west coast play call:
Scatter to West Right Tight F Left 372 Y Stick Z Spot
The West Coast Offense, or WCO, is a philosophy that remains relevant at every level of competition. Coach Bill Walsh is credited with inventing this system as a Quarterbacks Coach for the Cincinnati Bengals.
This "Air Coryell" offense was originally called the West Coast Offense, but when one player mistakenly called Coach Walsh's system "The West Coast Offense," the name stuck. The Play call can be complex.
This style focuses on short-to-intermediate, precise routes run by receivers. Sometimes it is said that this style "nickel and dimes" defenses.
However, this is an efficient offense that has proven to be more than capable of winning championships. This contrasts with the "Air Coryell" offense mentioned above, which is known for attacking downfield.
What Does An NFL Play Look Like?
Walsh's offense consists of 3, and 5 step drops by the QB with routes that rely on the Tight Ends and Running Backs and Receivers. This includes swing passes to the Running Backs and hitches to the Tight End with a regular route tree for receivers.
The essence of the West Coast system is rhythm & timing and ball protection. There is a smaller chance of home run type plays with a passing attack based on short throws. Consequently, higher completion percentages are expected and fewer turnovers.
Below is an example of the type of formation and play Coach Walsh would run: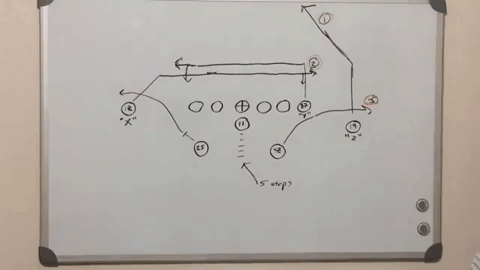 It is important to note that Coach Walsh won three Super Bowls with this offense. Joe Montana, Steve Young, and Jerry Rice are all now in the Hall of Fame.
Additionally, Roger Craig, Dwight Clark, and Tom Rathman were among many Pro-Bowl caliber players on offense during this era. Watching their highlights from with the 49ers almost certainly means you are watching the WCO.
Lastly, this means that "The Catch" came from this philosophy as well.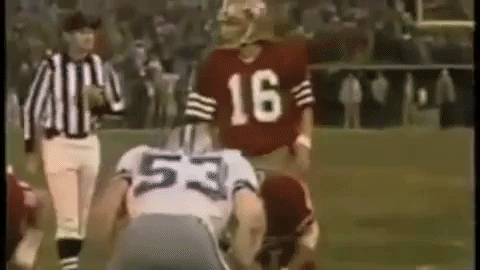 The West Coast system is a popular NFL system because of its variety and ability to be flexible when calling plays. Below are some more features of the system:
Features a well-balanced attack of pass and run
Originally the system called for a zone run scheme
In the decades since its inception, power running schemes have also shown success
Bill Walsh loved the "Play-Pass", also known as a playaction, where the run fake is meant to open up the passing lanes for his QB. Coach Walsh went on to say, "I truly believe it is the single best tool available to take advantage of a disciplined defense"
Utilizes pre-snap motions to generate match-up issues and confusion with the defense
Due to innovations in offenses, the WCO has also been implemented for shotgun-based offenses.
The WCO can be installed at a lower level of football with 10-15 core pass plays and 5-6 core running plays
His philosophy is in NFL offenses today
Air Coryell Play Call System
The "Air Coryell System" (Learn More Here), made famous by former San Diego Chargers offensive coordinator (and Hall of Famer) Don Coryell. Don Coryell, created a system of using numbers for routes instead of terminology, which introduced what we know now as the "route tree." Here is an example of the route tree:
All the in-breaking routes are labeled with even numbers. Odd numbers are for out-breaking routes. Coaches may change the numbers to mean the opposite and add 0's to the end to add more complex routes (Example: 20 may be a whip route).
A straightforward play call in the Coryell system would be "Trips Left, Slippy 951 Fade". Breaking down the play call:
Trips Left – This identifies the formation – 3 receivers spaced evenly apart from each other.
Slippy – Sprint Left series for the line and running back to identify who they're blocking.
951 Fade – The 9 route is a streak, 5 is an out, 1 is a flat route. The "Fade" is for the backside receiver.
Erdhart – Perkins Play Call System
The Erdhart – Perkins model deals with one or 2-word concepts instead of lengthy precise terms or numbered routes.
Named after former New England Patriots Offensive Coordinators Rod Erdhart and Ray Perkins, the Erdhart – Perkins model is one of the more popular calling plays by both the youth and the NFL.
The Erdhart – Perkins model focuses on one or two-word concepts called in a fast-paced offense. For example:
Deuce Left Mesh
Deuce Left – The formation signifies that they're 2 receivers in a 2×2 look. The "left" signifies where to align the running back.
Mesh – The Mesh concept is when the 2 inside receivers run drag routes and the 2 outside receivers run Go routes. The running back will settle in the middle of the defense—the 5 routes called by the Quarterback by simply saying the word "Mesh." Blocking schemes are implemented in each formation, depending on if the coach wants the running back to stay and help protect or run a route.
These systems are all attributed to the Nickel, Dime, and Quarter defenses we've been accustomed to seeing on Sundays.
Keep Learning
The NFL play call can be complicated to the untrained eye. However, as long as the viewer can decode what system the coach is using, understanding the play call is easier.
Oftentimes, coaches will call 2 plays in the huddle, and the quarterback needs to run the play or yell "kill kill" and go to the next play.
This adds more variety for the coach and quarterback. However, the verbiage of the play call itself will often double in length.
Let's keep learning! Our learning center is packed with information regarding technique, scheme, and more!
If you're looking for more in-depth breakdowns & coaching resources, visit our coaching resource page here.
Like learning football? Our football handbook has everything you need to know about football!