Paint is an excellent DIY way to spruce up any room in an old house. Some paint drips fall on the baseboards during any paint job, which seems challenging to remove. However, learning how to remove paint from wood trim is manageable when you have the proper solvents and cleaning agents.
It is essential to use a suitable paint remover so you do not damage the wood trim. Throughout this article, you will learn how to get paint off wood trim with easy-to-find cleaning products.
Everyday household items like vinegar and rubbing alcohol thin old paint, making it simple to clean paint off trim. As with many DIY projects, some paint splatter is bound to happen, so you must know how to clean up the old paint.
Whether you are painting with acrylic or latex paint, the paint stripping methods here will successfully get rid of the paint drips on any wood surface.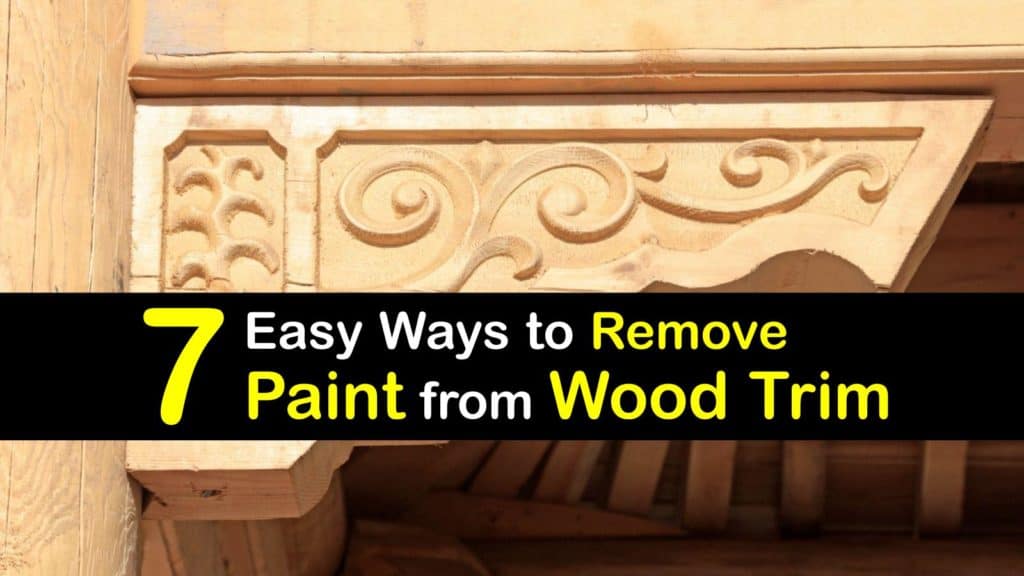 Cleaning Up Paint Drips with Ease
The best way to prevent any paint from getting on your room's woodwork is to use painter's tape and clean up fresh paint spills right away. Painter's tape blocks unwanted paint from reaching your baseboards.
Sometimes, though, a little paint slips through the crevices. Another way to prevent paint stains on your woodwork is to clean up the spills immediately.
Wet paint is easier to remove from the surface compared to dry paint. The techniques we describe will eliminate dry paint from your wood trim.
Benefits of using a Scraper to Clean Paint off Trim
A fantastic tool that helps you save time while removing paint drips from wood trim is a scraper.
A scraper removes layers of paint without smearing excess paint around. The great thing about using a scraper is that multiple tools effectively chip away at dried paint chunks.
Whatever paint scraper you use, make sure to work carefully and slowly to ensure the bare wood does not get damaged. Press the scraper at the edge of a paint drip and push gently until you lift the dried paint.
Using a scraper is not necessary, but it does speed up the paint removal process when you start by scraping off the larger sections of dried paint.
Loosen Paint with Heat to Get Paint off Wood Trim
Another helpful technique that allows you to strip paint off easily is to loosen the solvent with a damp cloth. A rag dampened with hot water softens the hold that paint has on the wood surfaces.
Using a wet rag works best as an initial step before you implement any form of paint stripper. One advantage of this paint removal method is that it is easily accessible and does not require many tools.
If you do not want to use a damp cloth to loosen the excess paint drips, consider using a heat gun or hairdryer. The warm air from the hairdryer loosens paint and makes it easier to get paint off trim completely.
Softened paint is easier to clean from the wood finish. To remove paint drips from wood trim, it is important to take the proper initial steps to loosen the dried paint's grip.
How to Remove Paint from Wood Trim with Sandpaper
One alternative to chemical paint strippers is sandpaper, but sanding may take a little more elbow grease. Using the correct sandpaper guarantees that the wood surface is not damaged. There are two methods when it comes to sanding.
A power sander does the job automatically, and there are pieces of sandpaper to use manually. When selecting sandpaper to clean paint off trim, be sure to use the proper grit.
Start the paint removal process with 80 grit sandpaper, using enough pressure to remove the paint drips without scratching the wood.
Finish sanding with either 150 or 220 fine grit sandpaper to break through the extra layers of paint and restore the baseboards to their original state.
Utilizing Denatured Alcohol to Remove Paint
Denatured alcohol serves as an efficient paint stripper for latex, acrylic, or lead paint, whether you need to remove paint from hardwood floors or trim. The ingredients in denatured alcohol lift paint off the surface, making it effortless to peel away. Because of the chemical in the solvent, wear a respirator for protection.
Dab a clean rag in denatured alcohol and apply it to the affected area, letting it sit for ten minutes so the alcohol dissolves the paint. Clean the surface with warm water. Understanding how to remove paint from wood trim is simple when you have denatured alcohol on hand.
If you find a little mold while you're working on stripping paint, denatured alcohol is also an effective way to remove mold from wood surfaces. Follow the same procedure.
How Mineral Spirits Loosen Dried Paint
Mineral spirits remove dried paint on a variety of surfaces, including tile, wood, and laminate. This paint stripper effectively removes dried paint from your paintbrush, too. To ensure that mineral spirits do not damage varnish, test the solvent on an inconspicuous area.
Using a cotton swab or ball, cover the paint drips with mineral spirits and let the paint stripper sit for about 20 minutes. Use an old rag soaked in warm water to clean residue off the baseboards. Mineral spirits are potent, so use as little as possible.
If you have a larger area to work on and a little time, mineral spirits is the best way to get paint off cabinets, too.
Remove Dried Paint from Wood Trim with Rubbing Alcohol
Even if you use drop cloths to protect your wood trim, paint drips may still occur.
Combining the paint removing agents found in rubbing alcohol and lemon juice is a terrific DIY solution to cleaning dried paint, whether you use it on the baseboards or try to get paint off windows. Rubbing alcohol liquifies the paint, while lemon juice disinfects the surface.
Mix your measured lemon juice and rubbing alcohol in a container or dish before applying the solvent with an old rag. To better work the ingredients into the wood, scrub with an old toothbrush. After cleaning the paint drips, wipe the area with a paper towel.
This recipe is effective to get paint off vinyl siding, as well, and can be the best way to clean oak furniture that has accumulated dirt and grease.
Vinegar Serves as an Excellent Paint Stripper
Vinegar is a wonderful cleaning agent that can also get paint off wood trim, as well as remove paint from a laminate floor. Hot vinegar loosens dried paint, allowing you to clean it up with an old rag. Pour a little white vinegar into a microwavable bowl and heat it in the microwave oven.
Using a sponge, apply the hot vinegar to the affected area and let the solvent sit for 15 minutes. Although vinegar is acidic, it does not damage the wood surface, so you will not have to repaint it.
Cleaning old wood furniture with vinegar works wonders, too, to remove grime and grease that have built up over time.
Repainting a room is a terrific way to spruce up and add a little color to the environment. When working on a DIY project like painting, accidents may occur, leading to paint drips on wood baseboards.
If you have to get paint off wood trim, do not worry. There are plenty of simple techniques to clean paint off trim like vinegar, mineral spirits, and sandpaper.
If you discovered how to remove paint from wood trim, share these tips for cleaning paint with your followers and friends on Pinterest or Facebook.