Whether you rarely fly or you're a seasoned road warrior, we've all got something in common: Spending time in airport security lines is the worst. With travel nearing pre-pandemic levels, the prospect of long lines at the airport is high.
TSA PreCheck is a household name in travel at this point, billed as one of the best airport timesavers out there. As travelers return to the airport in droves, a quick trip through security is more important than ever – and thanks to a recent price drop, it's even cheaper now. But after years of growing popularity, the process can still be confusing.
Here's everything you need to know about this popular trusted traveler program, from how to get signed up, how to make sure it works, and a few ways to get it for free.
How Does TSA PreCheck Work?
Officially, PreCheck is run by the Transportation Security Administration, a federal government agency, as a trusted-traveler program. Unofficially, it's your ticket for a fast pass through airport security screening.
Only members of this program are eligible to hop in the TSA PreCheck lanes, which means lines are generally much shorter than the standard screening lines. And once you're in it, there's no need to remove your coat, shoes, or belt, nor do you need to remove electronics or liquids from your bag. That means the line moves much faster, too.
In short, TSA PreCheck can shave a ton of time off your wait in the security line. Your first time using it, you'll wonder why you didn't join the program sooner.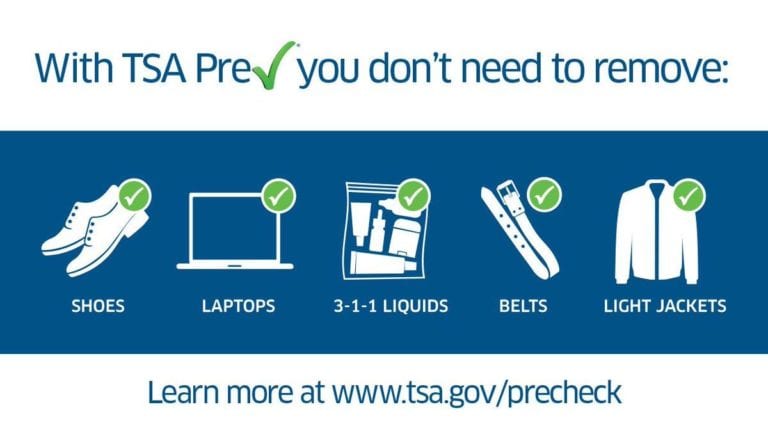 The one catch is that TSA PreCheck only partners with specific airlines, so you may not always get that quick pass through security even when you have a PreCheck membership. Luckily, that list of airlines is growing.
Which Airlines Participate in TSA PreCheck?
This is one of the biggest points of confusion surrounding PreCheck. Just because you're signed up for PreCheck doesn't mean you'll always get into the PreCheck lane at the airport.
It goes through the airline you're flying with, which will print a PreCheck symbol on your boarding pass if you're approved. Your airline doesn't participate in PreCheck? Sorry, you're out of luck.
However, all of the major domestic airlines and even many of the small U.S. carriers are included. More international airlines are joining the program each year. All told, more than 80 airlines currently participate in PreCheck.
Here's the full list as of publication:
Scan that (fairly massive) list, and you'll see there are few major airlines that don't make the cut. TSA has added dozens of airlines over the last few years. Most budget airlines like Frontier, Allegiant, Spirit, and Sun Country all participate in TSA PreCheck.
A few notable airlines that haven't yet joined up with TSA PreCheck include Aer Lingus, China Southern, China Eastern, and EgyptAir. As of publication, new budget transatlantic like PLAY Airlines or Norse Atlantic Airways have not joined up.
How Do I Apply for TSA PreCheck?
Signing up is a fairly easy process – and there are two ways you can get it. And if you hold the right credit card, you don't have to pay for it. More on that later.
For starters, you can apply online directly with the TSA. The PreCheck application is fast and easy. Just fill it out and pay the fee – $78 for a five-year membership. From there, you'll head to a certified enrollment center for a background check, including a brief interview (bring your passport!), fingerprinting, and a photo. These interviews are simple and generally take 10 minutes or less. If everything checks out, the whole process should take about two or three weeks from application to approval, maybe even less.
Thrifty Tip: You'll get notified once you're approved for PreCheck, but you can check your status online with TSA.
But there's another way to get PreCheck: Get Global Entry instead.
Global Entry is an outstanding two-for-one for travelers. Not only do you get a fast pass through immigration and customs when returning to the U.S., but you'll get PreCheck, too. The fact that it only costs $100 for a five-year membership is why we often recommend it for travelers deciding between Global Entry or TSA PreCheck.
The one hitch is that is applying for Global Entry can take much longer. Like PreCheck, it requires an in-person interview. While getting conditional approval from the federal government before your interview often takes just a week or so, it can sometimes take several months. And there are fewer Global Entry enrollment centers nationwide, so scheduling an interview can take weeks – if not months.
Read more: Tips to Get Your Global Entry Interview Scheduled Faster
Whichever route you go, once you're approved for PreCheck, you'll get a Known Traveler Number. Be sure to plug this number into your frequent flyer accounts with the airline(s) you're flying. Just log in online and pull up your account information to enter it.
Renewing PreCheck
Once you're signed up, you'll need to renew your PreCheck every five years to keep it active. Luckily, the TSA PreCheck renewal process is much easier – and cheaper, too.
Unlike the initial application that requires a background check, the vast majority of current TSA PreCheck members can simply renew their memberships online. The renewal window opens starting six months before the current expiration date.
Last fall, the TSA made a consumer friendly move by lowering the cost of renewing PreCheck to $70 for another five-year stint when renewing online. In-person renewals – when a traveler has a name change, for example – will still cost $78 for another five years.
When you're ready to renew, simply head to the TSA PreCheck renewal page and fill out the form. Of course, if you've got PreCheck through Global Entry you'll need to go through the Global Entry renewal process instead.
Wait, Can I Really Get Reimbursed for PreCheck?
No joke.
While getting PreCheck will typically run you $78 or $100 for five years, depending on how you get signed up, you don't actually have to pay it. This is where carrying the right travel credit card can pay off big.
A growing number of credit cards come with a credit of up to $100 that will cover your application for either Global Entry or TSA PreCheck. It works once every four years. Just pay the application fee with one of these credit cards and you'll be automatically reimbursed.
Check out the full list of cards that will cover Global Entry or TSA PreCheck!
Thrifty Tip: Already have PreCheck and want to use your credit for someone else? Simply pay the application fee for a family member or friend with your card and it will work just the same.
One of our favorite cards for getting signed up for PreCheck or Global Entry is the Capital One Venture Rewards Card. In addition to some other sweet perks – not to mention the 75,000 Venture miles you earn after spending $4,000 in three months on the card – you get this $100 application credit. Most credit cards with this benefit have annual fees of $400 a year or more, but the Venture Card costs just $95 a year.
Click Here to get more information about the Capital One Venture Rewards Credit Card.
Active members of the military also get PreCheck for free – and there's no need to apply. Simply enter your 10-digit DOD ID number as a Known Traveler Number.
Will I Always Get PreCheck When I Fly?
Unfortunately, no. A PreCheck membership doesn't guarantee you access to the faster PreCheck lane. It seems silly, we know.
The biggest variable here is which airline you're flying. Rather than being an all-encompassing security program attached to your ID, PreCheck only works with select, participating airlines.
That's why you have to enter your Known Traveler Number individually with each airline. If you don't, you won't get PreCheck, period.
But even when you're flying a TSA-approved airline, the security agency doesn't quite guarantee it will work for you. TSA takes pains to stress that it can vary, even for travelers who have paid for the service. Here's a snippet from the agency's frequently asked questions:
In our experience, those cases are typically quite rare. Just look for the TSA PreCheck logo on your boarding pass – either printed or on mobile. That's the key to getting into the expedited security lane.
If it's not showing up, there's usually a simple fluke that's easy to fix.
Why Didn't PreCheck Show Up on My Boarding Pass?
Nine times out of 10, it's about your name.
The name on your boarding pass and the name attached to your Known Traveler Number have to match. That's how your PreCheck benefit carries over, and how the TSA knows that you're trustworthy. So if you're flustered by not getting PreCheck, it's worth checking into whether there's been an issue.
And typically, there's an easy fix. Message the airline you're flying with directly on Twitter or Facebook. It's one of the quickest ways to solve any problem with your flights.
I ran into this issue once due to an issue with my name not carrying over properly on an award booking. Within about 15 minutes, the issue was fixed and the TSA PreCheck logo showed up on my boarding pass.
But also make sure that your Known Traveler Number is added to your frequent flyer account with that airline. You can't skip this step, otherwise you won't get PreCheck.
Will My Kids or Family Get PreCheck, Too?
Sometimes yes, and sometimes no. It just depends.
By the letter of TSA regulations, an adult's PreCheck membership will apply to minors that are booked on the same reservation, so long as they're 12 or younger. Just be sure that the TSA PreCheck holder books the tickets, and it should almost always work for kids on the same reservation.
But what about spouses, other family members, or friends? In theory, those benefits won't pass down. But in practice, airlines will occasionally pass it on to an entire reservation. Airlines just have some discretion in deciding whether or not to pass on these benefits to everyone. And anecdotally, it seems as though airlines and the TSA have gotten stingier with sharing the benefit with traveling families.
In short: Airlines will sometimes give the rest of your traveling party your TSA PreCheck benefits. But you can't always count on it.
What About CLEAR?
CLEAR and TSA PreCheck are often used synonymously. And while they're both great ways to cut down on your time in the security line, they're drastically different.
For starters, CLEAR is a privately run company, while TSA PreCheck is run by the federal government. PreCheck costs as low as $85 for five years, while CLEAR charges an annual fee that starts at a whopping $189 – though you can cut down that cost substantially with Delta or United. And after some major changes to The Platinum Card® from American Express as well as the American Express® Green Card, it gets even cheaper: You can cover the whole cost (and then some) with the $189 annual CLEAR credits on both cards.
Read more: How to Maximize the Amex Platinum Card's CLEAR Credit
But these programs themselves operate much differently. PreCheck gets you into a dedicated lane. CLEAR cuts you to the front of the line – the PreCheck line, if you've got TSA PreCheck, or the standard line if you don't.
That makes CLEAR and PreCheck a powerful duo to get through security as fast as possible – they're not exactly duplicative. Just beware you'll have to pay up for it. Read our guide to signing up for CLEAR for more information.
Read more on how TSA PreCheck vs CLEAR compare!
Bottom Line
We mean it: TSA PreCheck is one of the best investments a frequent traveler can make. Your first (faster) trip through security, you'll kick yourself for not getting it sooner. And now you know exactly how it's done.