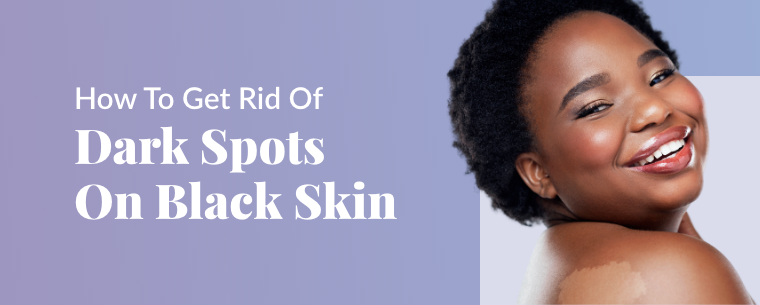 The appearance of dark spots on black skin is a common concern among patients with darker skin types and can be the result of a number of factors, such as sun exposure and inflammation.
If you have dark spots on the skin, your skin pigment is not dispersed evenly. This leads to an uneven skin tone.
Here are some of our expert dermatologist's top tips to get rid of discoloration and unevenness on Fitzpatrick 4, 5 and 6 Skin Types. To read more about skincare products for darker skin types, click here.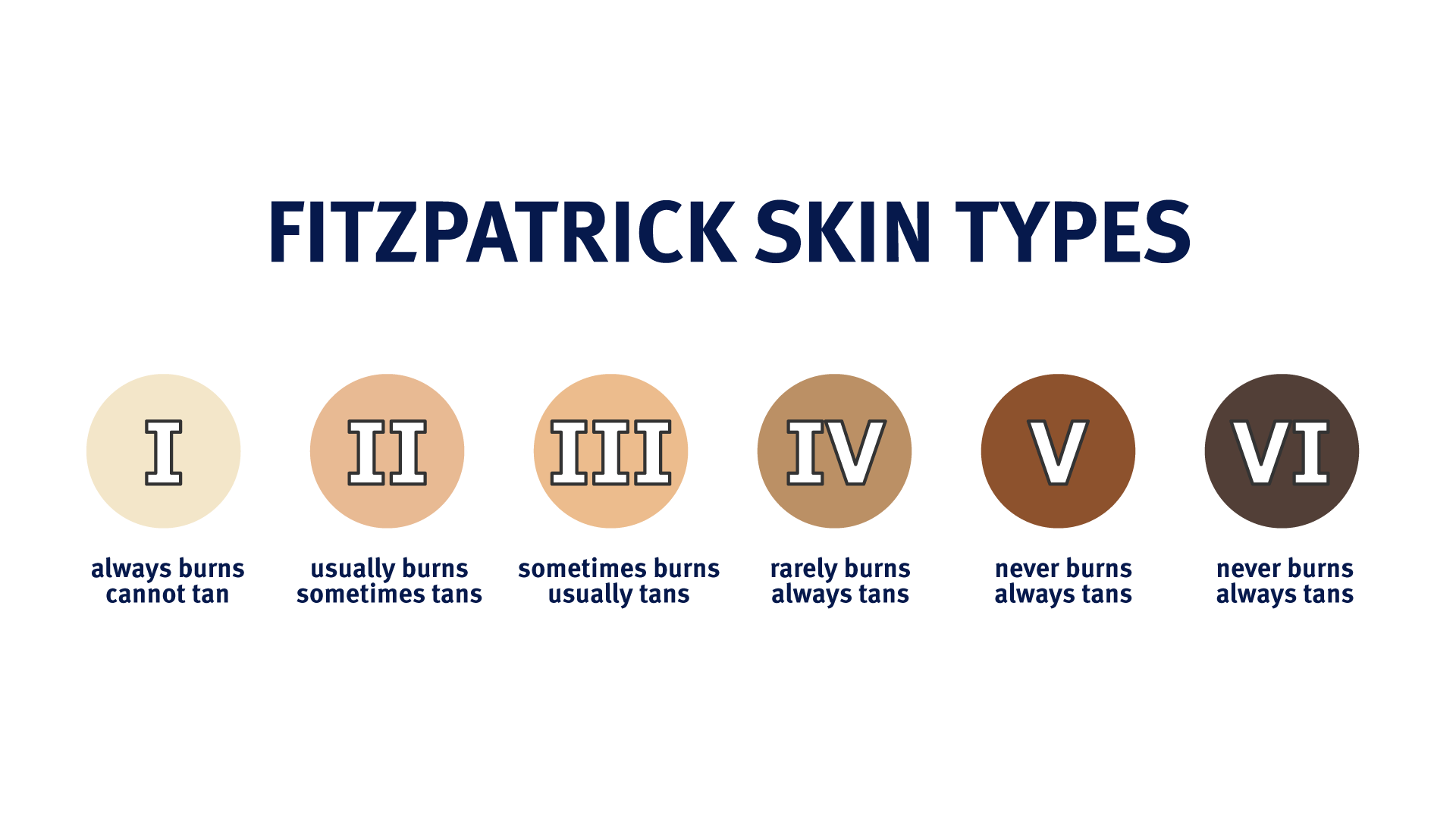 There are a number of hyperpigmentation treatments to remove dark spots on African American skin and other dark skin types, but your best bet is to take the Skin Type Quiz to find the best skin care routine to match your Baumann Skin Type. Here is some general advice, but we can give you more specific advice once you take the quiz.
Laser Treatments for Dark Spots on Black Skin
Lasers used to remove dark spots on the skin target the pigment melanin. Because darker skin types have more melanin in the skin, the laser is not a good choice to treat hyperpigmented spots. Using laser on dark skin can result in burns and scarring. It is best to stick to skincare or see a Skin of Color Dermatology specialist who can use chemical peels. It is critical to see an doctor experienced in treating Fitzpatrick Skin Types 4,5,and 6. Look for a doctor at the Skin of Color Society web site. If you do not have a skin of color dermatology specialist, don't worry- most dark spots are best treated with skin care. Topical skincare treatments for dark spots are the safest way to treat dyspigmentation on dark skin.
Why Do I Get Dark Spots on My Black Skin?
The skin's natural pigment is called melanin, which is made by cells called melanocytes deep in the surface of the skin. While everyone has the same number of melanocytes, some people make more melanin than others . This can be due to genetics, hormones, sun exposure or inflammation. This increased melanin production can cause dark spots on black skin.
To learn more about what causes skin color click here.
The main causes of the increase in melanin production are sun exposure and inflammation. Inflammation is caused when the blood vessels dilate, making the skin look pink or red in lighter skin tones. However, brown and black skin tones often cannot see this redness on the skin and do not realize their skin is inflamed or sun-damaged.
This inflammation – whether the result of sun exposure, rosacea, sensitive skin, or using the wrong skin care products – triggers the melanocytes to create more melanin, leading to dark spots on the skin.
How Does Treating Dark Spots on Black Skin Differ To Light Skin?
Skin lightening ingredients in your skin care routine can turn off the production of melanin, but in black skin, it is imperative not to use them all over your face or they will lighten the skin color of your entire face. The goal is to even skin tone by only lightening the darkened areas.
You should only use a dark spot corrector for black skin directly on the dark spot by applying with your finger or a cotton swab. Try not to get the product on the surrounding skin as this can cause an undesirable halo effect. which is a light area around the dark spot.
The Best Skin Care Routine For Dark Spots on Black Skin
We generally recommend the following skin care routine to treat dark spots on African American skin, though it's best to take our Skin Type Quiz to get a personalized routine based on your Baumann Skin Type.
You should always start your skin care routine with an exfoliating cleanser or face scrub to remove dead skin cells from the surface of the skin. This paves the way for the skin-lightening products in your routine, allowing them to better penetrate the skin. Do not over exfoliate as this will lead to inflammation and post inflammatory hyperpigmentation. How often to exfoliate and what exfoliators to use depends upon your Baumann Skin Type.
Once your face is cleansed, you should apply a suitable eye cream to protect the delicate eye area from any skin-lightening treatments you may apply, which will follow. However, remember not to apply the hyperpigmentation cream or serum to your entire face – it should only ever be applied to the dark spot directly in black or brown skin tones.
You should top off your skin care routine with a moisturizer and always wear an SPF during the day to protect your skin from the sun's harmful rays. While it is true that darker skin tones can take longer to burn, it is often the case that you are unable to see the redness that the sun causes, which stimulates the excess production of melanin and leads to dark spots on the skin.
At nighttime, we recommend using a retinoid (vitamin A), which helps to even out skin tone and reduce the appearance of dark spots on the skin.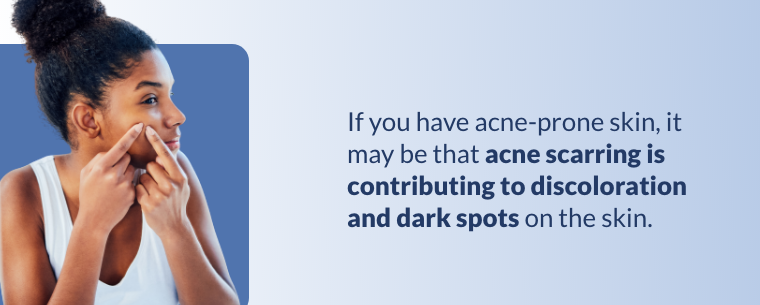 Types of Skin Lightening Ingredients for Black Skin
There are many categories of skin lighteners. Whether you are treating melasma, post inflammatory hyperpigmentation or dark spots from acne, you need a combination of these types of ingredients for the best results.
Exfoliants
PAR- 2 Blockers
Retinoids
Tyrosinase inhibitors
Vitamin C Serums
The Best Hyperpigmentation Creams for Dark Spots on Black Skin
Hyperpigmentation creams to treat dark spots contain combinations of ingredients listed above. The problem with skin lightening ingredients is they can get easily inactivated by other skincare products. This is why every product in the regimen matters. Cleansers and moisturizers affect the efficacy of skin lightening creams as do retinoids.
Here are the Best Skin Lightening for Dark Dry Skin
Medature Hydro Bright Treatment is an excellent hyperpigmentation cream for dry or oily skin. We like it because it is not as expensive as many skin lightening products. This dark spot remover contains hexylresorcinol, a skin brightener that helps to repair dark spots on the skin, as well as prevent the formation of new discoloration. In addition, niacinamide further treats hyperpigmentation, protects against sun damage, and supports the skin barrier, while chamomile soothes and calms the skin to reduce inflammation. It is one of our favorites. We also like these:
Here are The Best Skin Lightening Treatments for Dark Oily Skin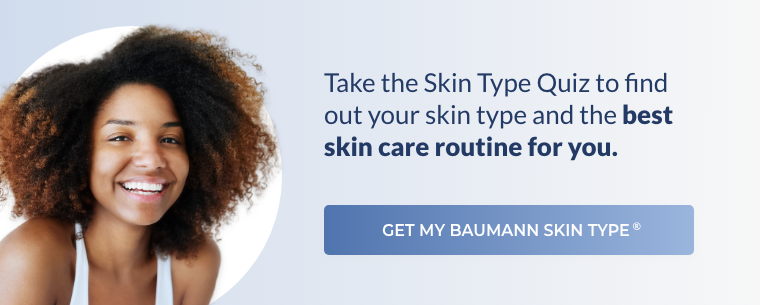 Taking a Break From Skin Lighteners Will Help Them Work Better
The skin lightening treatments above work well for 12-16 weeks but then your skin gets used to them. We recommend taking a 4 week break from skin lighteners and using Vitamin C serums instead. Then when you restart the skin lighteners they will work better.
The Best Hyperpigmentation Vitamin C Serums for Dark Spots on Black Skin
It is normal for Vitamin C serums to sting a bit when applied because they are a low pH to help the ascorbic acid penetrate into the skin. Once you open a Vitamin C product you need to use it in 4- 6 weeks because it goes bad quickly. One way to tell if your Vitamin C needs to be replaced is it turns dark. Make sure you keep it out of bright light or sun exposure and that you replace the lid after each use. This will help prolong the life of your Vitamin C serum. You can also keep your ascorbic acid serum in the refrigerator if you are going to go a few days without using it. Vitamin C serums are expensive so take care to get the most out of it by using it up as fast as you can before it goes bad. How you order it in the skincare routine is critical. Follow the order of steps as we recommend in your customized regimen to make sure you are getting the most from your Vitamin C serum.
These are our favorite dermatologist recommended Vitamin C Serums:
How To Treat Dark Spots on the Face With Supplements and Diet
Read about how Vitamins, Supplements and Diet can affect melasma and dyspigmentation on the face. Reducing stress and eating anti-inflammatory foods can help even the skin tone.
In Summary
Dark spots on black skin are a common concern among those with darker skin types; however, there is a range of hyperpigmentation treatments for black skin available suitable for your unique skin type. The best way to remove dark spots on black skin is with a personalized skin care routine that you use consistently. DO NOT forget daily sunscreen. The light from your computer and phone can be making your dark spots worse. Look for a tinted sunscreen with iron oxides that will look better on your skin and help block light from your mobile phone and computer.