You dutifully scrubbed every surface until it shined to prepare for guests and now your hands smell overwhelmingly like bleach. The house smells fresh as it sparkles from your efforts, but your hands smell like a heavily chlorinated swimming pool. The odor of bleach on your hands smells antiseptic, off putting, and might even engage your gag reflex as you sit down for dinner.
How do you remedy hands that smell strongly of a job well done?
Bleach contains chlorine which is a strong alkali. The pH of alkalis neutralizes naturally when combined with any acid. However, in combining both alkali and acid it is possible to release harmful gasses. To reduce the chance of producing and inhaling a harmful gas, prior to applying any of these smell reduction methods be sure to rinse your hands throughly with tepid or cool water for a few minutes to reduce the amount of physical chemical remaining on your skin.
While all of these methods with eliminate or reduce the smell of bleach on your skin, many of the offered remedies carry their own odors. Select the solution that best meets your needs!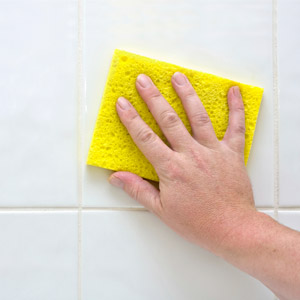 How to Get Rid of Bleach Smell on Hands
1 Splash with White Vinegar
Natures all purpose acidic cleanser neutralizes the bleach smell quickly and easily. Simply soak hands in 1:1 vinegar and water solution to reduce and remove bleach odor. Your hands may smell a little like vinegar after treatment, however the familiar salad dressing-like odor evaporates from skin more quickly than the heady chemical smell of bleach.
2 Lemon or Orange Squeeze
Similarly, the acid of lemon or orange juice helps to neutralize the chemical components of the bleach making your hands smell fresh and citrusy. Rub a sliced lemon or orange directly on your affected skin, or squeeze lemon or orange juice into a bowl of lukewarm water and allow your hands to soak in the mixture for a few minutes. Give yourself a full spa treatment and add some rose petals or basil and natural salts to give your hands a luxury bath.
3 Coffee Ground Rub
Use a palm full of dry coffee grounds to remove the chemical bleach odor and replace it with a warm, organic smell. The acid in coffee grounds both cuts the alkali of the bleach chemicals and the grounds absorb the offending odor. Rub the coffee grounds into your skin like an exfoliant, then dust of the grounds into the waste bin. Rinse any excess coffee into the sink. Your hands will smell of coffee, but in a pleasant and homey way far superior to the harsh smell of bleach.
4 Soap with Citric Acid
Lather up with a soap that contains citric acid to most effectively remove a bleach smell. A soap containing citric acid proves a gentle and effective solution for neutralizing the bleach smell, and leaves hands smelling clean and fragrant. Use a high quality hand soap with added moisturizers to relieve your hands of any dryness or chapping created when cleaning with the bleach solution.
5 Coconut or Almond Oil
Moisturize your skin with a subtle, yet fragrant all natural oil like coconut oil or almond oil. While these oils do not chemically neutralize the chlorine in bleach, they do offer a silky smooth scent to mask the odor of the bleach. Unlike store bought moisturizers, natural oils absorb deeply into your skin. Allow time for the oils to saturate and repair the affected area and reapply until skin appears hydrated and the bleach odor fades.
6 Flower Petal Squeeze
Pluck a few rose petals from your garden or centerpiece and rub them between your fingers until your skin absorbs the essential oils. The natural oils and fragrances from the petals serve to mask the bleach odor with a pleasant, natural perfume. Be sure to use nice smelling blooms like rose or honeysuckle, not all flowers smell so sweet!
7 Wear Gloves when Handling Bleach
Don't forget to wear gloves next time! In the future a good pair of rubber gloves prevents your skin from absorbing the harsh chlorine of bleach in the first place. Not only will wearing gloves as you clean prevent unwanted hand odors, the gloves also protect your skin from the harsh irritation of the chemicals present in bleach cleansers.
Bleach smells strongly and the odor may linger on fingers and palms for days if left unattended. Prevent the absorption of strong bleach odor into skin initially by using gloves and using an appropriate bleach to water ratio to dilute the chemical cleanser. After use, employ your preferred method from above to remove, absorb, and cover the sometimes overwhelming odor of bleach.