The guys over at Steam are constantly thinking of new ways to make your user experience as good as it can be. That could be fixing bugs in-game or offering new Steam features to make your life easier. The latest step towards the ultimate user experience is the Steam family sharing facility.
Steam understands that not everyone can get their hands on the latest games available. For that reason, Steam decided to design a feature that would allow users to share their games with close friends and family. However, it does come with its limitations.
Before we explain what this feature can't do, lets first show you how to share your games, and what you can do.
Step 1: Enable Steam Guard Security
Before you are able to share any of your precious games with your close friends and family, you must first make sure you have the Steam Guard Security feature Enabled. You can check this feature is enabled by completing the following steps:
Start by opening the Steam settings (Steam>Settings). Once inside the Settings window, select the "Account" tab and find "Manage Steam Guard Account Security". Once you have located this, click on it. If the "Turn off tab" is selected, Steam Guard is not enabled. Click one of the above-enabled options. See image below
Step 2: Authorize your PC for Steam family sharing
Once Steam Guard is enabled, the next step is to authorize your family member's accounts. This step is required to allow the sharing of your selected games.
The next step requires your Steam account to be logged onto your family member or friend's PC. Once you have logged on and passed the Steam security questions, you can follow the next steps to authorize their PC.
From the settings window, select the "Family" tab. Once inside the Family tab, find the "Family Library Sharing" section. Underneath this section, you should see a tickbox labeled "Authorize Library Sharing on This Computer", select it.
At this stage, you will see a list of users that can be authorized for game sharing.
Select the user(s) that you would like to share with on that computer. Once you have selected the user, click OK.
Step 3: Request Access To share Game
These steps are required by the user looking to share.
Start by logging onto your Steam and making sure Steam Guard is enabled. Follow steps from above.
Once this is done, if the authorization process worked, you should see a list of games in your library that have been added from the sharing Steam account. Select one of the new games and click "Play".
You should be greeted with a pop-up window which will look something like this:
Steam will then ask you to either "Request Access" Or "Buy the game". In this scenario, we will request access.
After you request access, steam will ask you to confirm the PCs name and send the request. Confirm the PCs name and click "Send Request".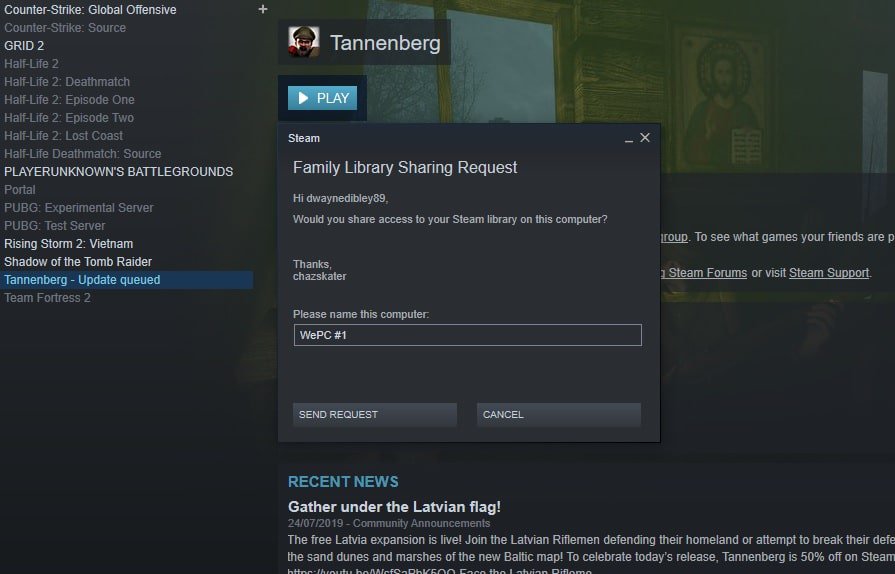 By clicking Send Request, you are sending an email to the sharing steam account asking for their permission to share that game. As the sharer, you will have to accept the offer via your emails. Once accepted, you have given permission to that person to use and share that game, the process is complete.
Next Steps
That is the full guide on how to share your games on Steam with your close friends and family. If you want to share any other games, you just have to repeat the step 3 process again.
Steam Family Sharing Limitations
Now, let's discuss those limitations that we mentioned in the intro. Firstly, it's worth noting that you can only share with up to five different computers and ten users. That is the max amount of users that Steam allows. Secondly, and more importantly, is that only one person can play the game at any one time. Unfortunately, you can not play at the same time, and if you want to play, you will have priority over the sharers.
Benefits of Steam family sharing
There are many glaringly obvious benefits to the Steam family sharing facility. The most obvious is having the ability to share games with friends and family without having to purchase the game for themselves. You can share up to a maximum of 10 devices at any one time as well.
It's also a great way of re-using some of your older games that you no longer play.
Deauthorizing Users
If for whatever reason, you feel like the sharer has lost there sharing privileges, you can easily deauthorize them. Do this by going into your Steam Settings again. Go to the family tab and select "Manage another computer". In this section, Steam will allow you to deauthorize computers and users who you have sharing relationships with.
If you have any questions regarding the Steam sharing process, feel free to drop us a question in the comments section below, and we will get back to you as soon as possible. It's a pretty straight forward process though and one that is achieved easily by following our guide!
Final Thoughts
There you have it, our comprehensive guide on how to share games on Steam.
Steam is a company that is growing by the day and features like this only increase their likability factor.
Hopefully, this guide helped you understand the sharing process, if it didn't, feel free to drop us a comment and we will reply as soon as we can.