Just Dance 2022 is a simulation game wherein the goal of every single level is to score 5 stars by perfectly copying the moves done on screen. I know, it's that easy with either enough practice or with enough swing in your hips. However, with each new iteration of Ubisoft's dancing simulator, the choreography turns up to another level.
When I say "another level," I literally mean it on both how the game plays and how you play the game. For the past two iterations, Just Dance doesn't require you to play with a camera module attached to your console to play the game. Although, in my opinion, playing with a dedicated console camera optimizes the experience a whole lot! So, why don't we test that out, especially on a next-gen console?
Before we begin, I'd just like to point out that the version of the game used is the one for the Xbox Series X|S. This game is also available for the PlayStation 4, PlayStation 5, Xbox One, and the Nintendo Switch. So sit back, relax, and enjoy a ridiculous trip down Just Dance 2022!
As legacy as it could possibly get
Like previous iterations of the game, Just Dance 2022 is rather easy to get around. In essence, you score points by copying the choreography as accurately as possible. Of course, early on, this game required the use of a camera module to track your movements properly. From the PlayStation Camera to the Xbox Kinect, these were essential for the optimal experience.
Also, if you're not really up for competition with your family and friends, there's always Sweat Mode. With Sweat Mode, you're not keeping track of points and stars to earn for each level; instead, you're more focused on the calories you burn. While this is great for those who want to use the game like zumba, I still don't know how they actually measure that.
Basically, mechanics-wise, it's still the same game as before with all the bells and whistles. There's nothing particularly different, but in the later parts, I felt the experience changed a little bit.
A music library that just keeps expanding and evolving
With each new game, Ubisoft adds a new set list of tracks that comprise of both old and new hits (by old, I mean literally early 2000s). Apart from these, the game's dedicated subscription service, Just Dance Unlimited, kept adding popular tracks from previous iterations. Honestly, this is a trend I appreciated a lot from the franchise as it caters to all ages and genres.
Another thing I also appreciated about this version and Just Dance 2021 was how committed the developers were to bring official choreographies onboard. Specifically, I wanted to see if they would do this for all the K-Pop tracks they added into the game. They set a precedent for this with BLACKPINK's Kill This Love in 2020 and TWICE's Feel Special in 2021.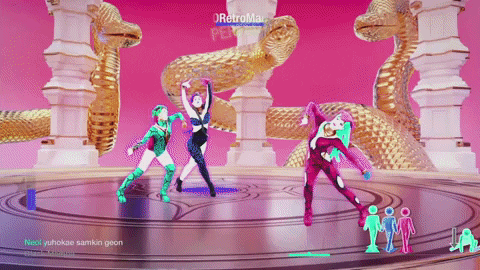 This year, they included pieces of original choreo for SuperM's Jopping and near full choreography for BLACKPINK's BOOMBAYAH, K/DA's POP/STARS and æspa's Black Mamba. Yes, freaking Black Mamba with the signature knee drop in the chorus! Also, these tracks already have them available as Extreme versions right off the bat, instead of having to unlock it by completing the Alternate versions. That alone already deserves a round of applause!
How to play on a smartphone, senpai?
Remember when I mentioned that I have the next-gen version of this game, and it's the Xbox Series X|S version no less? The thing is, if I had a PlayStation 5, this wouldn't be an issue to bring up since you can buy the HD Camera module for it. With the Series X|S, it's a different story since it currently does not support the Kinect camera at all.
In cases where your console doesn't support a camera like the Nintendo Switch and the aforementioned next-gen Xbox, the game tracks your movement through your Joy-Con or smartphone. Believe it or not, the developers found a way to do this since Just Dance 2020 just by tracking your hand. Of course, for me, this isn't the most optimal way of playing the game but it's a compromise they had to make.
For the most part, it just seems weird when you want to go all out and copy the choreography to earn points. In these cases, it's almost 50-50 when it comes to scoring Perfect moves when the game relies on one hand. Also, it's quite difficult to dance properly when you're holding something in your hand. Although, I still got 5 stars on Black Mamba so maybe it isn't that terrible.
Is this worth playing for any console?
Do I think that Just Dance 2022 is a great game to play for any occasion? Of course, it is given the amount of tracks to choose from and it's multiplayer! It sticks to what works for the longest time, and tries to improve on the intricacies every year. While this year's version doesn't seem like it's anything new, I would argue the experience just feels different.
Whether or not you should play it on any console is where I would draw the line just a tiny bit. I still believe that the optimal experience is to track your dance moves from head to toe. In doing so, you learn the movements and appreciate said intricacies in game design. Again, this only works when your console has a camera module to aid the game.
If you want to play this game, keep in mind that currently, the optimal experience is on the PlayStation and the Xbox One versions. It is playable on the Xbox Series X|S and Nintendo Switch, but you might miss out on truly immersive Just Dance gameplay. Still, it's something worth your time keeping in your game library, especially when you can have guests over.