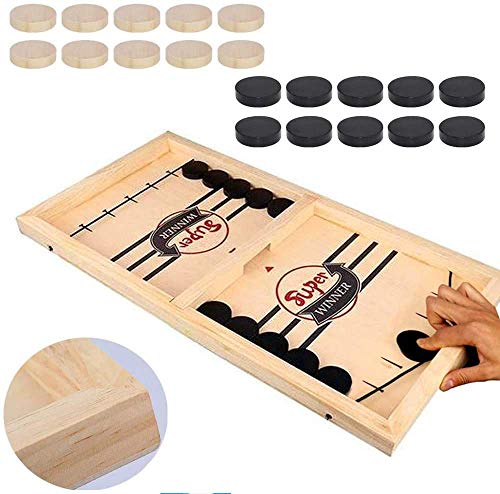 Did the power go out again? That's okay, we don't need electricity to have a fun time around here. Yinz wanted to play air hockey? Well, I guess that won't happen now, but we can try out this fast paced Super Sling Puck board game instead. It's easy to learn to play!
Sling Puck is a two player game in which players rapidly fire hockey puck shaped discs across a wooden board, using a rubber band. The object is to sling each puck through a central opening, landing it on your opponents' side. The first player to clear their side of the board wins.
RELATED on YinzBuy:Discover all the classic Clue board games based on TV and Movies!
Kids and adults alike will love the fast paced game of Super Sling Puck!
This Super Sling Puck game is fun for the whole family. In the box, you'll find a 22" L x 11.5" W x 1.2" H wooden game board. It's a natural-colored wood with black and red accent text. You'll also find twenty disc-shaped playing tokens – 10 in natural and 10 in black color.
You only need 10 pucks to play Sling Puck, so you can either use a mix of both colors, or alternate between the two sets as you play. It's also a great backup to have in case you lose any of the discs.
If you want to up the challenge though, you can use 10 per player instead of 5, and let the chaos really begin!
What are the Sling Puck game rules?
The Sling Puck game rules are simple:
Two players sit on opposing ends of the board and select 5 colored pucks each
Players high five with both hands to begin
Use the tension from pulling back a string near the base of the game board to launch discs towards your opponent
Use only one hand to aim and fire your pucks
You'll need to shoot each 1.5" diameter puck through an opening that's only a few inches wide, so hand eye coordination, motor skills, and focus are key
The first person to completely clear their side of the board wins, and this includes any your opponent has landed on your side
If a player bounces a disc out of the game board, it will be returned to the player who launched it – accuracy is key!
While it's easy in principle, this fast-paced game can turn in an instant. For every disc you send across, your opponent might be sending one back at the same time! You'll have to be fast and precise to win.
Super Sling Puck is a game the whole family can enjoy. Kids, teens, and adults alike will love the fast-paced action, making it easy for some friendly family competition. It's the perfect addition to game night, and valuable family time away from the electronics.
What is the Sling Puck Challenge?
Sling Puck Challenge is an adult variation of the game, using the same game board. You play exactly as you would in the normal game. However, the loser of the round must take a shot of an alcoholic beverage.
It's a fun way to add an additional level of difficulty to the game if you're playing with a 21+ only crowd.
Additional Notes
Recommended for ages 12+
Complete set weighs just over 2 pounds
Also available in a small size
Top 50 best seller in Board Games (Toys & Games) on Amazon
4.6 star rating with over 4,300 reviews!
Try the hit party game Klask which is part air hockey and part foosball! It was created by a Danish inventor and the top game in Norway and Sweden.
You kids would also love the Star Wars Mandalorian Snack Time game. It follows very similar rules to Sling Puck but launches rubber frogs instead!
Little Nintendo fans can enjoy Super Mario air hockey with a friend or even solo!
Find out who owns the fastest reflexes with the shocking Lightning Reaction game!
If you're interested in a little bit of technology with your games, then check out the Arcade 1Up Infinity electronic board game table that features 45+ games!
Enjoy the pub sensation – Shut the Box game, and discover a variety of multi player game rules!
You and your friend can also play the BrainBolt memory game as it works with 1 or 2 players!