Having such a big age span in our family means that everyone has a pretty wide variety of interests and abilities. The ProjeX Projecting Game Arcade that we were sent to review has been an absolute blast in our family! ProjeX is sponsoring this post.
From my "gamer" 12 year old son to my 5 year old who likes to play games like her big brothers (and of course mom and dad who grew up with retro games and Duck Hunt) – ProjeX is a fabulous middle ground for the whole family!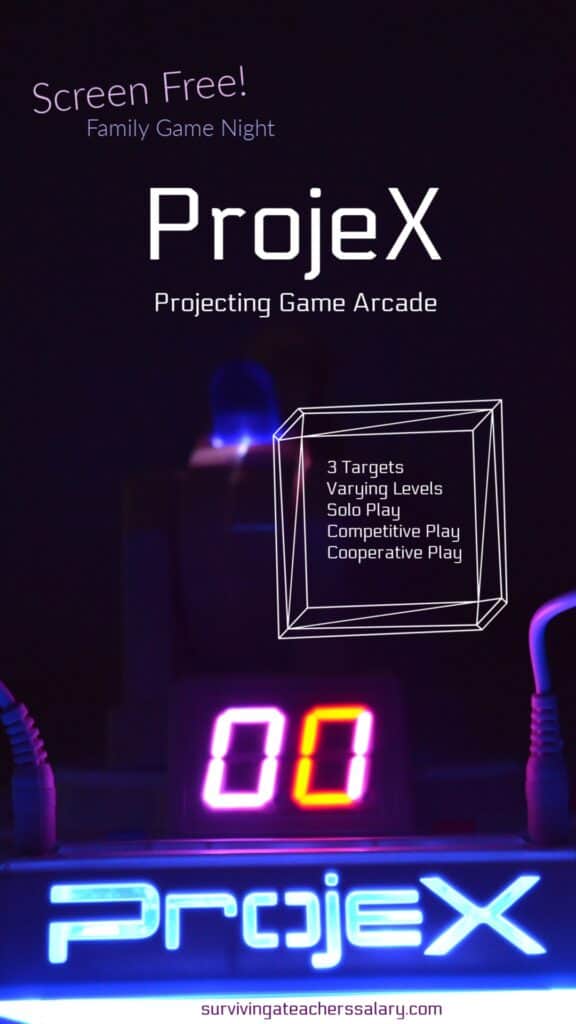 So what is ProjeX?
It's a portable screen free target shooting arcade style game that allows you to project the game on any flat wall surface for game play. You can literally pick this thing up and move it around anywhere you go. It has two guns for shooting (red and blue) and multiple designs, difficulty levels, and games to play. I'm actually rather surprised I haven't come across anything like this before as our family is pretty into retro gaming!
Once you shoot and hit the target the target "explodes" on the wall and the base lights up a point for whichever color gun hit the target. At the end all each player will be shown their points for the game.
5 different built-in games
3 skill levels
Play solo
Play against a friend
Play "Co-Op" WITH a friend and combine scores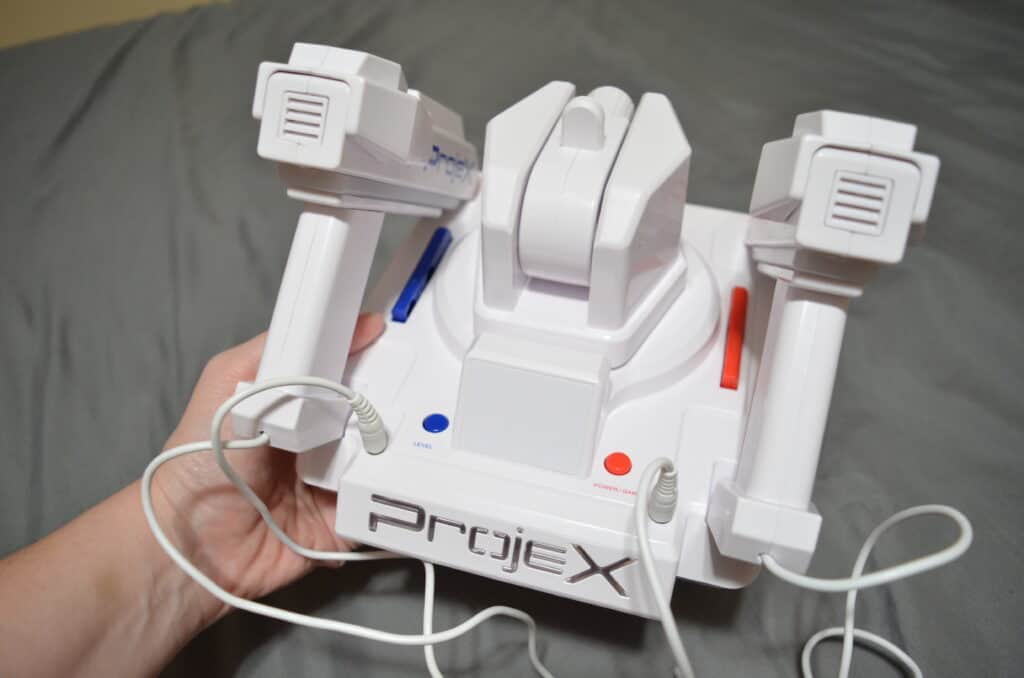 This is the base. You literally just pull it out of the box, add some batteries, turn it on then plug in the guns. As you can see each gun has a resting place in the base. The power button and level buttons are easily seen. That's as complicated as it gets. It's pretty user-friendly and you can look over the instruction guide to understand how to change the levels of play. The red and blue "strips" of color you see above are the target designs that you insert into the projector.
What designs can you shoot at on the ProjeX Arcade Game?
How to reset your ammo during game play:
How do you change the target designs in the ProjeX Arcade Game?
ProjeX comes with three different designs for targets as you can see in the white, blue and red pieces above. To interchange the designs all you have to do is slide these pieces in and out of the hole on the top of the projector. That's it! There's nothing fancy you need to do. My 5 year old can change them without issues.
Visit the ProjeX website for more instructions or buy this product at Target or Walmart!
How to Play ProjeX:
Install 3 AA batteries.
Set ProjeX on a low table (or bed!), with the projector aimed at the wall. The projector should be 5 feet from the wall.
Slide an image slide into the image slot, rounded side up (if it doesn't fit, it's backwards). Plug in both blasters. Then, if you're playing solo, unplug one.
Press the red power button. You have 45 seconds to adjust the focus.
Press the red button again to select game 1-5.
Press the blue button to select your level – beginner, advanced or expert.
To start playing solo or head-to-head, load your blaster by sliding the button on the top. Each reload gives you 6 shots. You can reload at any time.
To start a Co-Op game, where you combine your scores, both players must hold the trigger while they reload.
TIP: If you do not plug in your blasters before pressing the red "Power On" button, you may hear a buzzer sound. If this happens, you may need to reinstall your batteries to reset your machine.
a Rafflecopter giveaway
Share with your friends!