Covid-19 has significantly changed the way people conduct and run their businesses. It's become entirely online in most markets, where online reviews and online reputation are the referees for making or breaking!
Here are some stats that confirm this:
90% of consumers used the internet to find a local business in the last year. 33% of consumers look at local businesses online every day – up from 27% last year

BrightLocal's Local Consumer Survey 2019
And in this guide, I tackle the presence of Google My Business and Google reviews management as one of the main bridges between your customers trusting and buying or just ignoring and never coming back. Plus, we will show you how to use the Google reviews widget and sync reviews on your website automatically.
Chapter 1: Google Reviews Explained
What are Google reviews, and why do they matter?
How do you search for a restaurant or a place near you? You go on Google search or Google Maps and type the restaurant's name or the type of food you like, right?
Google brings results that are usually a combination of the proximity to your location and the ratings that a local business has on Google. And that rating is actually aggregated by the reviews people submit on Google maps for a particular location.
As we can both agree, people do read Google reviews. But why?
Google reviews provide valuable information about а business's operations and customers' actual experiences who had a real interaction with that business. For the truth's sake, Google reviews matter mostly because customers discover local businesses there, making Google the most important review platform for local businesses.
How do Google reviews work?
Successful digital marketing tactics drive Google's local SEO algorithm.
Therefore, it is highly likely that businesses with a high number of reviews will show up first in local searches for a particular brand keyword.
And as mentioned above, this combination of the average rating, the number of reviews, and the proximity to the user will most probably define the position of a listing in Google maps. So, having a well-optimized Google My Business profile and Google reviews helps your local ranking on both Search and Maps.
So it is kinda obvious that if you want your business to stand out in Maps or Google Search, you will need to establish a process to acquire, manage, and respond to Google Reviews.
Where do Google reviews appear?
Your Google reviews show on your Google My Business profile. From there, Google's ranking system can pick them up and display them in:
1. Google Local search results
When someone searches for a navigational keyword, for example: "best pizza near me," if you are in the "pizza" business and the potential customer is near your location, Google will show your business listing.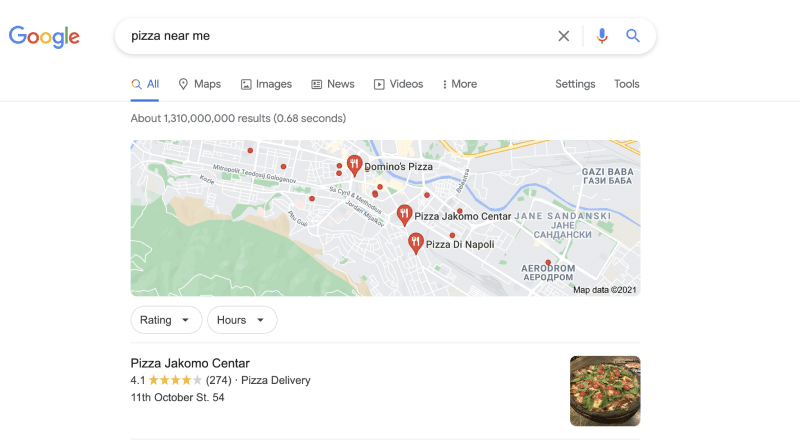 2. Google Maps
Further, if someone searches for your business name, they can be shown in the Google Maps section of the Google Search results or directly in the Google Maps app.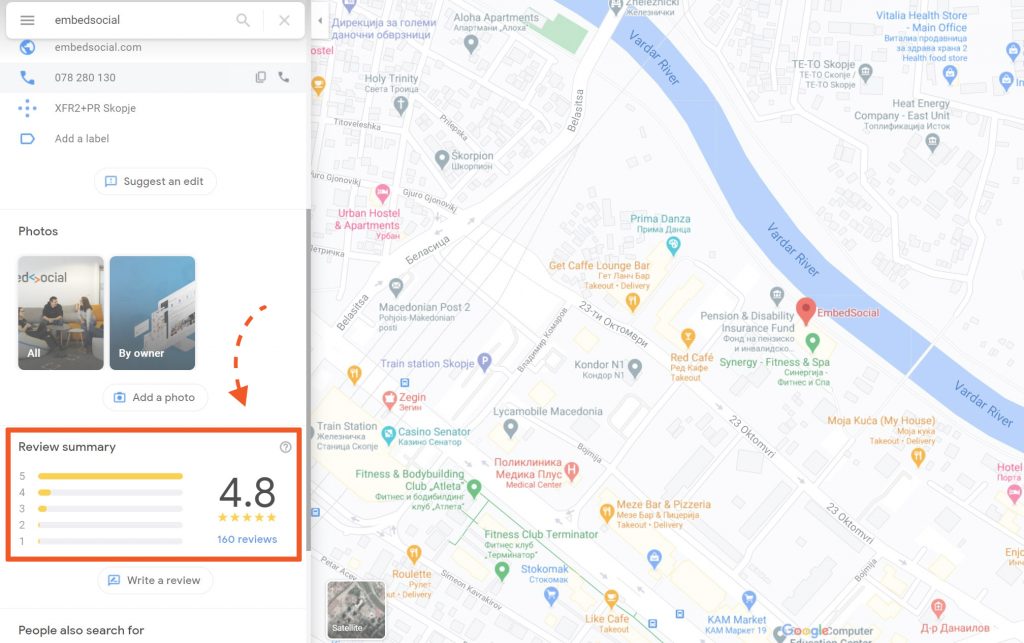 What are the Google reviews benefits?
Let's see why is so important to get and manage reviews on Google.
As Google is the most used and trusted search engine, people also consider Google reviews as reliable information to make conclusions about a specific product or a service.
Undoubtedly, Google reviews are becoming very important for today's business owners. They represent a vital part of their business's digital marketing strategy and online presence. One of the most significant benefits of Google reviews is that they boost local search rankings.
Therefore, knowing how to set up and optimize your Google My Business listing for better local SEO exposure in the SERPs is critical.
Here are some quick, helpful tips:
Choose a nice profile and cover photo
Choose the relevant business category
Enter relevant business information like description, phone number, location, website URL, working hours, etc.
Also, note that messaging or chatting with potential customers is a great Google My Business feature that is enabled for some countries.
You have to enter your phone number and enable the Click-to-Message this option.
Having all of these features in mind, here are the main benefits of Google reviews for your business:
Improving brand trust
Increasing online exposure
Driving organic traffic from local SEO
Providing essential feedback about your company
Improving conversions on landing pages
Increasing sales
These benefits are great for any business type, but especially for small businesses that want to get new customers to grow faster.
Online reviews are a powerful form of evaluating a service or a company operating as a local business.
Why are Google reviews important after COVID-19?
They increase trust and credibility and can contribute to the overall online reputation of a business.
And Google reviews are usually the first thing a potential customer will get in front of when trying to interact with your business.
They are that important!
This information from customers about local businesses' services and products has become essential, especially in the Covid-19 crisis.
As most of the local businesses had to lockdown, the crisis forced them to change their business operations entirely.
They couldn't use their location as an advantage to attract customers.
Now they had the challenge of specializing in online order management and delivery. And all that in just a couple of days if they wanted to survive.
Still, the best thing that happened is that customers started to order more from local businesses and support them.
They look for the nearest restaurant on Google, read the reviews, and order.
It is a simple process, and if you encourage them, they will most likely write you a Google review just because they have the time at home to do that.
Please continue reading below to learn how to optimize your Google My Business listing and get more Google reviews.
How do Google reviews work as a ranking factor?
Having Google reviews on your business profile can do wonders for your ranking. And here's how.
Google's algorithm is dedicated to giving the most relevant results to users. If many users review you, whether with 5-star or 1-star reviews, Google believes them. So, having good reviews increases your chances of standing in a higher position on the search results.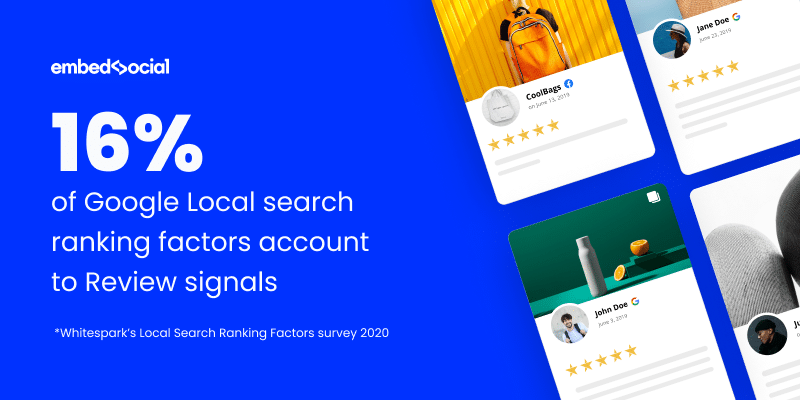 is means that the more reviews you have, the more information Google receives about your business, and your GMB listing will rank higher.
How do Google reviews impact CTR in search results?
When people search for a business on Google, they get a list of results.
According to the latest studies of Zero Limit Web, the five top results in the SERP get 67,60% of the total clicks.
Businesses that have higher overall ratings tend to stand higher on that list. Therefore, having great a better position makes you more visible to the users. And having a good rating makes you more trustworthy.
When you sum this up, the likelihood of users clicking on your business is pretty big.
Chapter 2: Get Google reviews
Setup a Google My Business account
First things first.
To start using Google reviews and enjoy the benefits, you need to claim and verify your Google My Business profile.
Google My Business is a free tool, and you can create a business profile in just a few minutes.
To get started, first go ahead and search for your business on Google Maps or in the Google search bar.
If you already have a listing but are not claimed and verified, you can easily follow our guide on Google My Business so you can organize your account to be on point.
Go to the business dashboard and insert all basic info, contact information, photos, and service area.
On the other hand, if you still do not own one, you can create Google My Business listing for free right now.
Note: You can always edit and update your information at any time.
Optimize your GMB account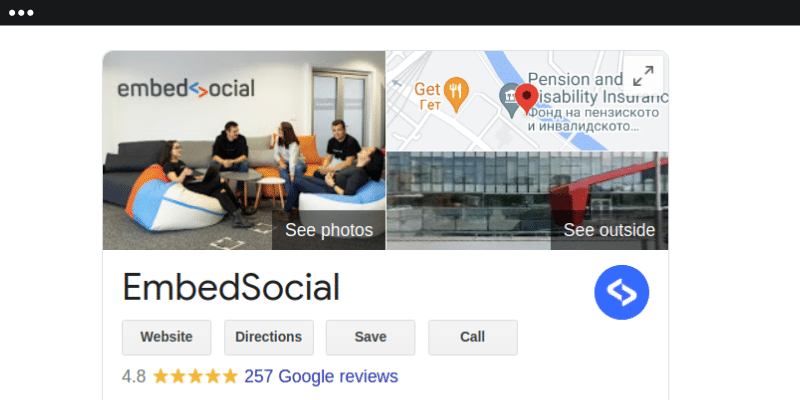 I mentioned how to set up your Google My Business with relevant photos and descriptions of your menu.
Previously you would have done this maybe 2-3 times a year.
But now, during the pandemic, information about your open hours is vital for a person to decide to order.
So, the best way is to update your listing more often.
Use Google Posts to post a Covid-19 post that will appear at the top of your profile, where you can inform people on how you operate.
Hopefully, showing people recency will encourage them to order and therefore write a review.
Explain to customers how to write a review
Many of your customers don't know how to leave a review on your listing. So, let's start at the ground level.
There are two possible ways you can leave Google reviews; through a browser (on desktop or mobile) or the Google Maps App. The process is different for each, and yes, your customers will need a Google account to do it.
To show them how to do this, you can go over these easy steps:
Write a Google Review from your browser (on desktop or mobile)
Login with your Gmail account, and after that, search for the desired GMB business page.
Navigate to the reviews area on that listing (located next to the star rating in search results or under the business name in the Google search bar) and click on the blue font that says "Write a review."
Write about your customer experience, and rate it between 1 and 5 stars, and click "Post."
Write a Google review from a smartphone in the Google Maps app
People use mobile devices more than anything, so make sure to explain to them how to write you a review on Google My Business app via mobile.
In the Google Maps app on your smartphone, search for the business name.
The app will return a small sticky banner about the business at the bottom, and then click that banner to expand the listing.
Navigate to the "Reviews" section of the menu or scroll down through the listing until you see the unpopulated five stars with your profile picture above them, and then click on the number of stars you would like to rate the business
You can write about your experience and click "Post"
To save time, you can record these steps as a short tutorial video or create a detailed article and send it to your customers whenever they have an issue about leaving a Google review.
Can you write a Google review without having a Google account?
You need a Google account if you want to leave a review for some business.
Earlier, with the Google+ policy, anonymous reviews were allowed. But it came that it was doing more damage than good since businesses and users couldn't know if the review came from a real customer or it was a fake one. And fake reviews were harming the main purpose and benefit of reviews – trustworthiness.
That's why Google took the policies to a much higher level, and anyone who wants to review any business must have their own Google account to identify them.
Steps to get more Google reviews
Now that you're all set with your perfect GMB profile, you're ready to get some reviews.
When you start the review collection process, there are some phrases you want to keep in mind.
1. Ask your customers to leave reviews
Your happy customers are willing to leave a review for your business, and all you have to do is ask!
Approach them pleasantly and honestly, like "asking for a favor. " There are multiple ways to do this, like asking them on social media, sending them an email, or contacting them via your customer success agents.
Asking new customers to review your business shows that you trust them and are willing to support them at any time.
More happy customers = more reviews = more sales
2. Thank customers for leaving a review
Thanking your customers for their positive reviews is always a good idea.
Showing gratitude and establishing communication on that ground can increase trust and create a foundation for great customer relationships.
3. Share Google review link
One of the best ways to get new reviews is by creating a Google review link and promoting it on different online channels.
Here is the easiest way how to create a Google review link:
Visit Google Place ID;
In the 'Enter a location' field, write your company name;
In the drop-down list, click on the company name that appears;
Your Place ID will appear in the popover, and copy it;
Paste this ID number at the end of this link (after the = sign) https://search.google.com/local/writereview?placeid=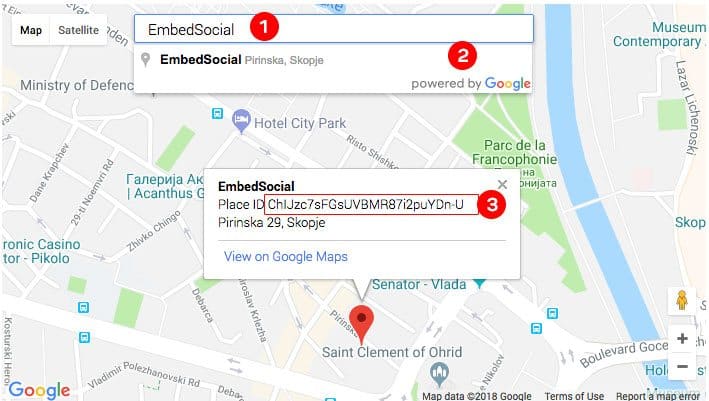 Here is how our Google review link looks: https://search.google.com/local/writereview?placeid=ChIJzc7sFGsUVBMR87i2puYDn-U
You can use a free link shortener tool like bit.ly and make this massive link into a reasonable size, making it simpler to share it anywhere.
The shortened link can be promoted in your social media posts or included in your email signature.
Additionally, you can add the link and create a review button to display it on your website.
Google review Email + SMS collection templates
You can use several methods when you ask for reviews. You can ask for them via email or via SMS for example.
Whichever method you choose, it's a good practice to have some prepared templates.
This is one sample template you can use for review requests by email.
Dear [customer name],Thanks for visiting us! We'd like to hear about your experience with [business name]. We deeply care for providing the best [service] for our customers.

Do you mind taking just a few minutes to leave a review? You can leave your feedback by visiting this link.[review link]

Many thanks
Keeping it simple is always a great idea. So, here's a text message template you can use to ask for a review.
Hey [first name]! Please take a moment to leave us a review of your experience with [company name] today at [review link]. Thanks!
You can find 60+ industry-based review request templates in our The Reviews Plan eBook.
How many Google reviews do you need?
Well, the more reviews you have, the better. There's no such thing as too many reviews. The more reviews you have, the greater your chances of first-position ranking.
The average number of reviews depends on the industry you're in. But no matter which niche is, always aim to have more reviews than your competitors. That's how you can outrank them in Google search results.
Chapter 3: Manage Google reviews
How to manage your Google reviews?
If your business has a Google My Business page, you should pay attention to your review management strategy.
Don't you have one? No worries.
There are a few things that you need to have in mind when successfully managing your Google My Business reviews.
First, you should monitor them daily, and second, you should always be prepared to respond to your reviews in the best way possible. Especially the negative ones!
Now, let me share how to manage your Google reviews and approach them correctly: responding and reporting (removing) them.
How to respond to positive, neutral, and negative reviews on Google?
As mentioned earlier in this post, I guess you already know what you should do and how to respond to positive reviews.
Successful business practices highly recommend showing your gratitude to customers and replying to good reviews, as it adds additional value.
On the other side, it takes more time to review and respond to a negative review on Google. But that's a significant part of your reputation management strategy.
Unfortunately, you can't just ignore it until it goes away. Ignoring a bad review can make things even worse!
To approach this situation properly, here are a few tips:
Review and evaluate the feedback internally first
Prepare an appropriate response
Respond to the review publicly and quickly
Work towards a 1:1 conversation
Be transparent about mistakes and issues
Ask questions when details aren't clear
Offer a similar solution or be willing to help
Add a human touch and sign your name on the response
Request an update from the customer, and don't leave the conversation unfinished
Nobody wants those 1-star reviews on their Google My Business listing, so I advise you to start with them first. And did you know that 80% of the 1-star reviews are with text?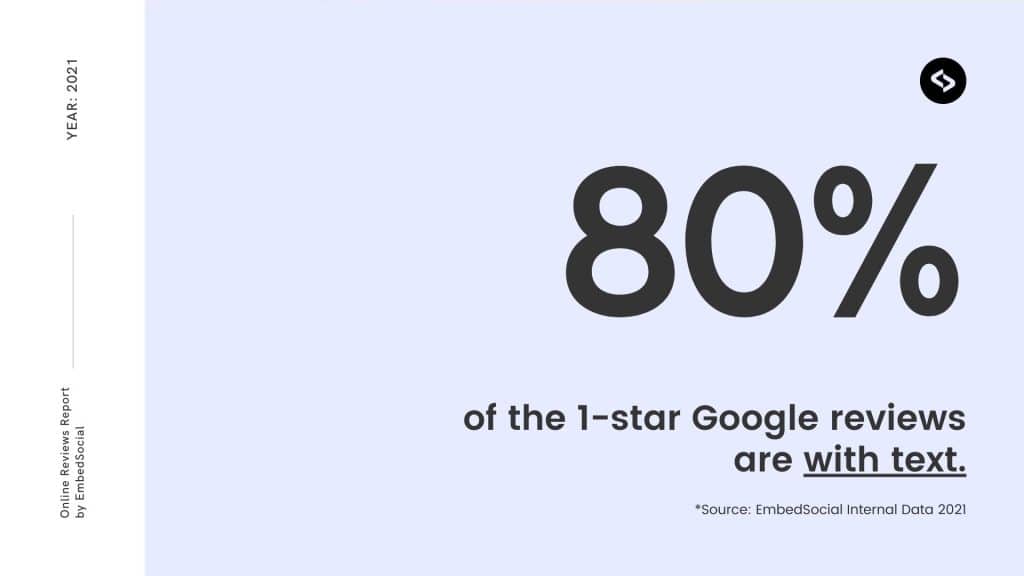 This indicates that customers really wanted to write why they are rating the business with 1-star, and open up an opportunity to clear things up with a well-thought-out response.
If some of them seem suspicious to you and look like a planned malicious attack on your business reputation, you should take additional actions. Those actions include flagging and reporting inappropriate reviews so the Google team can remove them.
The process includes going over a few steps on how to report an inappropriate review.
However, this is not an easy process, and it can often be frustrating.
The ugly truth is that there is no guarantee that Google support will listen to what you have to say and remove the review for you.
But, the best you can do is to try the following tips!
Google reviews response templates.
You should never ever ignore the reviews your receive from your customers.
It's important to make your customers feel acknowledged, and you can do that by responding with interest when they offer feedback. Even if it doesn't change anything, just knowing their opinion is being heard will leave them feeling satisfied.
So, here are some templates to help you respond to every type of review.
Responding to a positive review
A thank you is not only a nice gesture for your customer, but it also helps to build rapport between the two of you. If they took time out of their day to say something good about your business, don't be rude and act like that didn't happen!
Thanking customers who leave reviews on social media sites such as Yelp or Google+ can help maintain a positive public image while benefiting from word-of-mouth advertising.
Here is an example template you can use.
Hello [customer name],Thanks for your time and the positive review you left us!

We value all customer feedback and we are very happy that you enjoyed [positive experience mentioned] with [company name].

We hope that we'll see you again at [company name].
2. Responding to a negative review
I know your gut tells you to close your eyes to negative reviews, but that's the worst you can do. Instead, respond to those reviews and turn your unhappy customers into loyal ones.
This is a responsive template that can help you out in such a situation.
Hi [customer name],Thank you for your feedback. We're truly sorry that your experience did not match your expectations.Please help us to improve by providing more information on it.

Our manager [manager's name] will reach out to you later today to [offer compensation or trying again] since we really want to make things right for you.

Is there anything else we can do to make things right for you?

Thanks again!
3. Responding to a neutral review
When you receive a positive or negative review, it's easy to pinpoint where the customer stands. But when there are neutral reviews… it can be hard to tell what their opinion is of your business and products! This type of review often contains elements from both good and bad reviews- which makes them really confusing.
And this is a template you can use for occasions like that.
Hello [customer name],Many thanks for your time and your feedback!

We're so glad you enjoyed [positive experience mentioned].Yes, we are aware of that [negative element]. That's because [offer your explanation why it is the way it is].

Is there anything else we can do to make this experience even better for you?

Many thanks!
See more positive reviews response templates and start replying to your Google reviews today.
Get aggregated Google rating stars in search results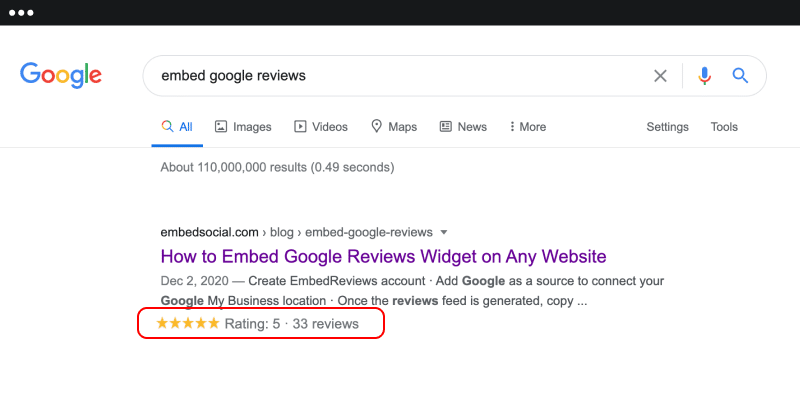 Do you know those beautiful yellow stars with a review count besides some links in the search results?
Well, that's a review snippet – a simple code embedded on the website that signalizes Google to display the reviews count along with the results.
So, what do you need to start with Google rating snippets?
Google My Business account
At least 5 Google reviews
Schema code generator
Luckily for you, the EmbedReviews platform provides this functionality, and you can embed your schema.org code and get the rating count next to your search result.
You can check the steps in our guide on Aggregated Google Rating.
The stars will shine brightly to encourage new customers to write reviews for you. Reviews are usually positive, so this approach is likely a good idea!
How to embed Google reviews on your website?
The process to generate and display Google reviews on your website is simple and easy with the EmbedReviews platform.
Here are the steps on how to embed Google reviews on your website:
Create EmbedReviews account
Add Google as a source to connect your Google My Business location
Once the reviews feed is generated, copy the provided code
Paste this code into your website body section.
Here is what Google reviews widget looks like:
With EmbedReviews, you can even generate reviews from review sites like Yelp and Facebook reviews. One of the best features is that you can combine all of these reviews into one beautiful widget and display it on your website.
We have many layout templates to pick from that are suitable for every website style and design.
If you want to know more detailed information about embedding Google reviews on your website, check our embed Google reviews tutorial.
Where can you display your Google reviews?
You deserve a pat on the back for all of your hard work. Your ratings do not take an effortless task, and you should be proud to show that!
One of the best things you can do in that direction is to showcase your reviews on your website.
You can get creative and play around with your reviews. You can use some of these ideas for displaying reviews on your website:
Display the reviews as a sidebar on your About Us page
Place the best review in the header on your home page (you can change it daily or weekly)
Embed a carousel with the top 10 reviews on your home page
Add the reviews on your product page
Add the reviews and testimonials for each product right next to it
Create a dedicated review page and shine right away
Create a Google reviews page on your website
Show all customer reviews from various review sources, including Google, and embed your social media and Google reviews on your website.
You can do this with a professional reviews management tool like EmbedSocial, which directly integrates with the Google API and automatically syncs Google reviews with any website.
The best case is to embed a Google reviews widget on some of your existing pages (you can find more details about this widget below).
Still, one of the exciting ways is also the possibility to create and share an entirely dedicated page with your Google Reviews and reviews from any other sources you collect from.
Here is an example of a Reviews page: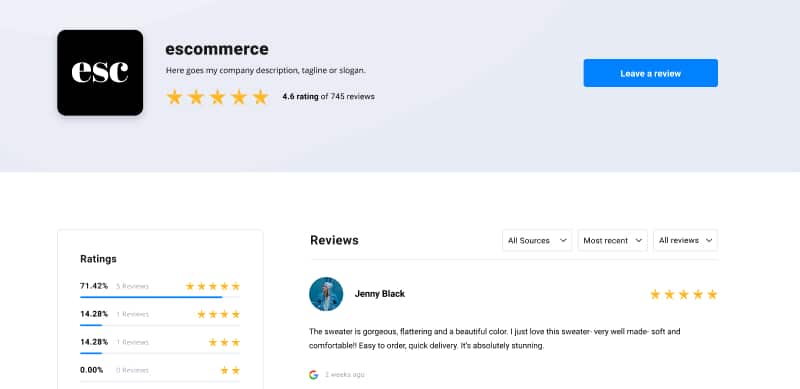 And here are the main sections included on this page:
Company logo and description section
Leave a review button that triggers a form
Star rating data
Number of reviews
Reviews Filter by source
Table view of the reviews with reviewer info, date, source logo
As you can see, having a dedicated reviews page is a great destination to showcase reviews from various sources. Allow customers to make their own decisions and eventually use it to submit feedback directly on your social media pages or through forms.
How to hide reviews on your Google My Business page?
Unfortunately, you can't.
Unlike Facebook, a review cannot be turned off and is visible for all to see on the company's profile page in Google My Business.
We all know how negative reviews on Google can be surprisingly detrimental to your business's reputation.
The best way of getting negative feedback under control?
Respond promptly when you first hear about it from customers. This is the only way you can turn negative feedback into a positive experience and a loyal customer base for both – current and future customers.
How to delete a Google review?
Google reviews can make or break a business. Sadly, people (or fake accounts) do leave negative or fake reviews, which can negatively impact your online reputation.
So, what can you do about deleting Google Reviews?
There isn't a direct "delete" option by Google, but there are different things you can do about getting the review removed.
Navigate to your Google My Business profile
Tap on "Reviews"
When you see the review you want to remove, click the three dots in the top right corner.
Click "Flag as inappropriate. "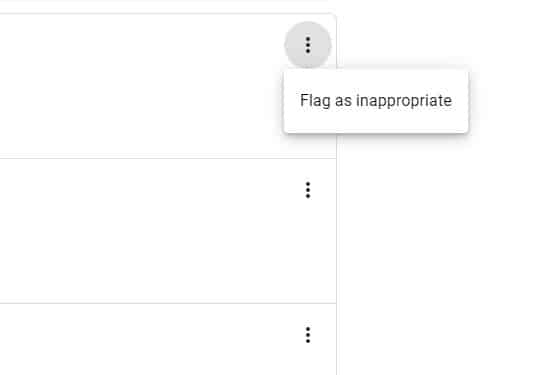 5. A popup window with "Report review" will be shown with a text about Google's content policy and click "Continue".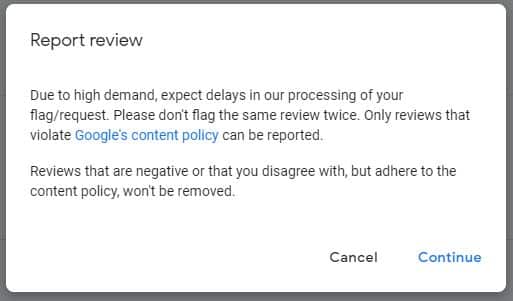 6. Another popup with the text "What's wrong with this review" is shown, and you need to choose the relevant reason.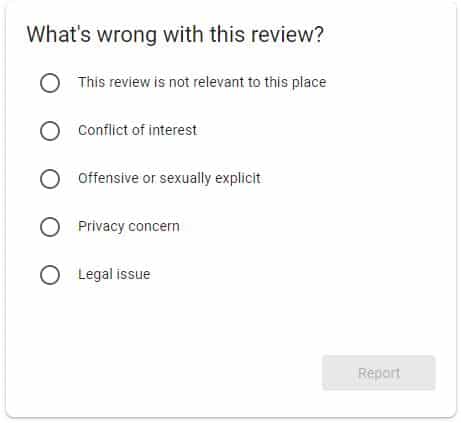 7. After selecting the reason, click "Report. "
After Google processes your request, they will send you an email with an update on your removal request.

Fingers crossed that your removal request will be accepted.
How a customer can edit or delete a Google review?
Customers who leave Google reviews have the option to edit or delete the review they wrote. To do this here are the steps:
On the desktop, open Google Maps and make sure you are logged in with the account you used to write a review
Click the top-left menu button and choose 'Your contributions'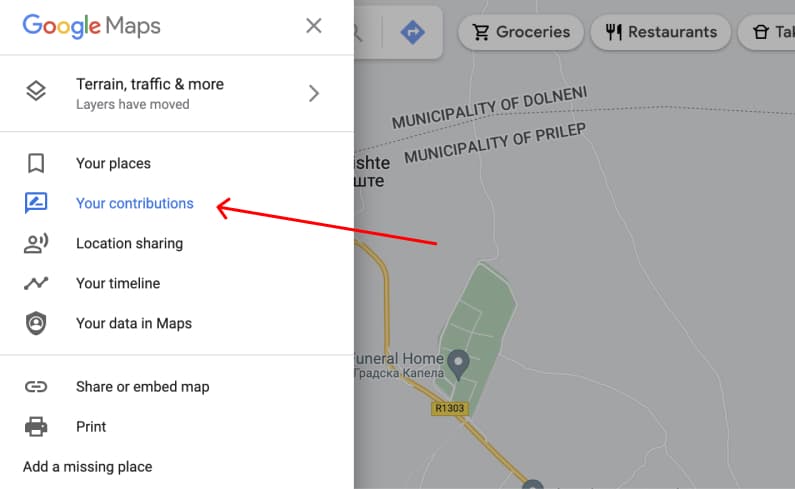 Click on the Reviews tab
From the list of the reviews you left, find the review you want to edit.
Click the top-right three dots icon, choose 'Edit review,' change the text and rating and click Post.
This is useful also if you are a business that solved the customer problem and now you need to show the customer how they can edit their review and make it a 5-star or make their review text more positive.
More FAQs about Google reviews
We summarized the most frequent questions about Google reviews. Here is the list:
Wrap Up
Eventually, having both good and bad Google reviews doesn't look that terrible for your online reputation.
Having a mix of great reviews and bad ones is a good thing—it shows that you are a real business and that you didn't just beg or force your contacts to say nice things about your business.
In the end, the only thing that matters is just getting more Google reviews and using the positive ones as brand advocates on your website to gain additional value for your business and acquire new customers.